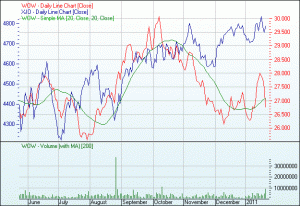 The chatterazzi are indulging in hand wringing over Woolworths' first profit downgrade since the company re-listed 19 years ago. "Strange days indeed" says one broker. "Myriad factors" are "laying siege to the fortunes and future of our major retailers" says The Age. Have to keep a watchful eye on those "myriad factors" at all times – you never know what they might do. If investing in Woolworths is an investment in the Australian economy, then it is increasingly becoming clear that it is an investment in the wrong side of Australia's two speed economy – the slow lane. Lamentations aside, it is worth asking: who is likely to invest in the company, and why?
For local institutions, it tends to be a question of arbitrage. They will inevitably have a holding in the so-called "retailer" (it is really just a supply chain, one half of the world's largest supermarket duopoly). That duopoly gets on average about $4,000 a year from each member of the population, so the question is not whether or not to hold the stock, but what weighting. With an investment in Coles obscured by its being part of the conglomerate Wesfarmers, Woolworths remains the best pure supermarket play. They are likely to hold or slightly sell off.
For retail investors Woolworths tends to be a yield play with capital growth. But the likely dividend yield is about 4.6%, not very different from bank deposits. And the capital growth story is not especially appealing. The forward earnings multiple is about the same as the wider market: 15 times. Brokers' 12 month price targets are about $30, but considering the profit downgrade that has to be considered brave. They are not likely to be strong buyers.
For overseas investors Woolworths has been considered an excellent defensive investment, a logic that looks weaker with the Australian dollar so high. There is also less appetite for defensive stocks as some gloom lifts from global markets. That race may be run.
Woolworths' advantage has been that it could run a barely competent supply chain, when Coles could not. That advantage now seems to be evaporating. Wesfarmers seems to know something about distribution networks. The duopoly is becoming homogenous. Woolworths is hard to avoid, but hard to get excited about, either.