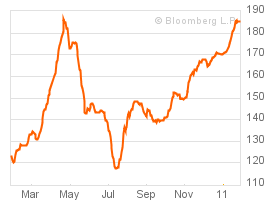 This blogger has looked on in astonishment as the iron ore price has moonshot through a sequence of cup and handle formations to an all time high.
There are a variety of reasons behind the rise, not the least being the blow-off in Chinese growth.
However, a number of variables are now in play that make forecasting the next move difficult.
As this blogger has observed before, the first of these is that Dow Jones reported BHP has secured some large proportion of its current sales volume on monthly contracts. The same story indicated that Vale had recommitted to quarterly pricing. Rio has been quiet on the issue.
By this blogger's calculations, the current disparity between quarterly contracts and the spot market is roughly $40 per tonne. Over the course of one year of Australia's total shipments, that's a$16 billion discrepancy. It is only a matter of time before Rio joins BHP.
Another potential variable on the upside is the ongoing ructions in two Indian states. Karnataka fired off the last six month bull run  when it banned exports last July. The state, which exports roughly a quarter of India's total iron ore shipments, has been wrangling with companies and Karnataka's High Court ever since.
Reuters reported recently that:
India's high court is expected to lift the ban on exports from the southern Karnataka state in February, which might ease supply shortages and trigger a fall in prices.

"Supply will increase if the ban is removed and there may be a psychological impact too. Prices are so high now and we are all waiting for it to peak and fall," the second trader said.
But fall how far, this blogger must ask. Another Indian state, Orissa, is currently campaigning to ban its iron ore exports. Again we refer to Reuters:
Orissa is the third-largest exporter of the steelmaking raw material in the country, the world's No. 3 supplier. India sells about half of its annual output of more than 200 million tonnes to top iron ore importer and steel producer China.

… Indian exports of iron ore fell for the sixth straight month in December because of the Karnataka ban, industry data showed on Monday.

But exports could shrink further if the Orissa government makes good on its threat to send a proposal to the central government by early February to halt iron ore exports to prevent illegal mining and increase local supplies.

Many, however, see the Orissa government's proposal as a knee-jerk political reaction after the central government either halted or scrapped multi-billion dollar investments in the state over environment worries.
Clearly it's no simple matter gauging the politics of Indian states from an office in Melbourne. What we can say for sure is these Indian states are clearly moving to manufacture steel locally and the supply risks associated with the fits and starts of big business working with big government are going to continue. Even if the Karnataka ban is removed, some of the risk will remain.
On top of that add the ongoing super La Nina and the cyclone season surrounding the Pilbara offering possible further supply disruption.
On the clear risk to the downside, there are record inventories stocked in Chinese ports. According to Bloomberg:
Market players report of traders having built inventories in anticipation of tight supply going forward," Wilhelm Gedde- Dahl, an Oslo-based analyst with Pareto Securities AS, wrote in a note today.
Though it seems unlikely given the above supply risks, the Chinese could choose to run down these inventories,as they have done several times since the financial crisis. Especially for instance if the big miner's drive for shorter term contracts becomes … unfriendly.
Another possibility is that the Chinese ore traders get spooked by efforts to slow the Chinese economy. During and after late 2008, as growth came into question, China went through a huge metal draw down cycle. Such is not this blogger's central scenario given the its view that China faces a hell of task slowing its economy.
All told, the iron ore market looks as tight as a drum on supply, demand, price and risk. Volatility may reign.