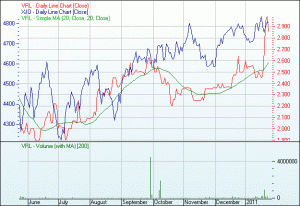 The news that Village Roadshow is looking to sell its 52% stake in its radio investment Austereo has led to speculation amongst the chatterazzi that Village is looking to privatise. Maybe. Although if the chatterazzi are predicting it surely that is unlikely to be the real motive. More probable is that Village needs the cash. Last year the company knocked its dividend on the head when it had to provide more money to its its US-based film production operation to support a new $1.2 billion loan facility. What we are witnessing is yet another example of managers in a local oligopoly struggling overseas, where the grown ups play.
Village and Hoyts are, of course, a dominant duopoly (they even tried to become a monopoly about a decade ago). That means they just have to manage the cash to stay in line with the fortunes of the overall economy and of the industry sector. Inevitably, their performance will tend to track both unless they decide to do something reckless (like innovate, for instance).
The economy has generally been in their favour; the industry sector, cinemas, less so. But when an oligopolist goes offshore it requires entirely different skills and Village has "found the going tough" as the cliche goes. The stock is on a seriously unenthusiastic historical earnings multiple of 3.75 times, giving some idea of how the market views Village management and the stock's growth potential.
The stock has gone sideways over the last year, until the speculation.
Austereo is viewed differently, a domestic market leader whose strategy is readily understood by the locals. It is on a historical earnings multiple of 14 times, and a prospective earnings multiple of about 12 times. And unlike Village, it is expected to pay a divided of 5.7%, fully franked. Brokers are valuing the takeover price at between $2.30 and $2.50, which may be possible if the usual enthusiasms take hold. The stock has jumped to over $1.90, implying that the connection with Village may not be entirely positive. But is it a buy? Morningstar has downgraded its recommendation from buy to accumulate, which may be the wiser course. Deutsche Bank has a buy.
Conclusion? Perhaps Village management is "looking for the long term" (getting those financial disciplinarians off their back). Perhaps they just need more equity. Or maybe the truth hurts. The SMH-Age speculates that the "Kirby brothers, Robert and John, along with their "adopted brother" and managing director Graham Burke in privatising their entertainment company," arguing they do not like the market scrutiny. Business Spectator says it "raised the prospect of yet another attempt to privatise Village itself by the troika that has long dominated its affairs."  Perhaps Village management just wants to escape those type of comments from the chatterazzi.