Just a short post today, we are a bit busy with some other work and are expecting a busy day tomorrow as there is lots of community recovery support work to do in Brisbane , and we are eager to help out where we can.
As we mentioned in an update to yesterday's post a reader sent us an e-mail about the data from the Victorian Department of sustainability and environment in regards to mortgage issuance in Victoria.
As our daily readers would be aware we have been speaking about mortgage issuance and the effects of falling new credit for some time. The Victorian data is very interesting.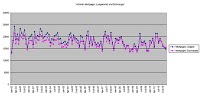 You can see the lodgements and discharges track each others movements. This is expected because a buyer's loan is a vendors deposit and in the cases where the vendor still has a loan they would pay it out.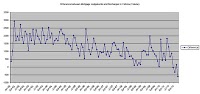 However you can see something very interesting happened very recently. For the first time in the data's history discharges have been greater than lodgements, which suggests that a proportion of people seem to be paying out loans without a corresponding property sale.
We will discuss this, and some other credit related data in a future post when we have some more time.
In a follow up to another post we made recently, in regards to new consumer protection legislation we note that it wasn't just private businesses that were not ready for it. ASIC sent this e-mail to all registered licensees today.
---
ASIC has received almost 6800 credit licence applications and has issued around 2900 credit licences
Thank you to all those businesses that made applications – ASIC is committed to processing these applications as soon as possible.

Almost 2900 national credit licences have now been issued to businesses engaging in consumer credit activities.
Currently, ASIC is processing a further approximately 3900 licence applications following the close of applications on 31 December 2010.
Some applicants will receive follow-up enquiries from ASIC – regarding documentation or other matters – over the next few weeks in order to complete the application process. If you have outstanding documents or other information to provide to us, please do so as soon as you can – it will speed up processing of your application.
Latest licensing data for the period 1 July 2010 to 12 January 2011:
Applications received: 6743

Licences issued: 2910
Distribution of licences by state/territory:
New South Wales: 1017

Victoria: 561

Queensland: 564

South Australia: 169

Western Australia: 539

Tasmania: 29

ACT: 24

Northern Territory: 7
Can I engage in credit activities before I'm granted a licence?
If you are a credit registered person who applied for a credit licence before 31 December 2010 licence, you can continue to engage in credit activities until we make a decision on your licence application.
If you are a credit registered person who missed the 31 December deadline, you must stop engaging in credit activities until you:
apply to ASIC for a licence, or

ensure that you are otherwise permitted to engage in credit activities (e.g. authorised as a credit representative).
If you are setting up a new consumer credit business, you must not engage in credit activities until you have been granted a credit licence or you are otherwise permitted to engage in credit activities (e.g. authorised as a credit representative).
Strict penalties may apply to persons who unlawfully engage in credit activities, including a maximum criminal penalty of $22,000 for individuals ($110,000 for corporations) or two years imprisonment, or both.

---
Lucky credit demand is falling, because it doesn't look like there will be any new issuers any time soon.
---
Disclaimer: The content on this blog is the opinion of the author only and should not be taken as investment advice. All site content, including advertisements, shall not be construed as a recommendation, no matter how much it seems to make sense, to buy or sell any security or financial instrument, or to participate in any particular trading or investment strategy. The author has no position in any company or advertiser reference unless explicitly specified. Any action that you take as a result of information, analysis, or advertisement on this site is ultimately your responsibility. Consult someone who claims to have a qualification before making any investment decisions.