Another interesting day on the blog front. Yesterday's article, Planning Gone Mad, certainly stirred up a hornets' nest of comments and emails from readers. These ranged from highly supportive to outright opposition and claims that I have pandered to right wing interests. Nothing could be further from the truth. In all honesty, I couldn't give a toss about politics. My interests in this area are in achieving affordable housing and inter-generational equity by tempering speculative demand – such as limiting negative gearing, improving lending standards, and reducing our banks' offshore borrowings – and improving the responsiveness of housing supply.
Readers should note that unresponsive housing supply is a different issue to the 'undersupply' of homes or 'housing shortages' commonly mentioned by mainstream commentators. The former relates to the speed and cost at which new (generally fringe) housing supply is built, whereas the latter refers to the physical quantity of homes available for the population.
In my view, Australia does not have a housing shortage. But housing supply is certainly unresponsive and overly expensive on the urban fringe of Australia's cities and towns. As a result, the critical 'inflation vent' provided by cheap fringe housing in places like Texas and Atlanta (despite very high population growth) is missing from the Australian housing market. As such, there is no supply mechanism available to quickly dampen house price inflation before it turns into a speculative bubble (and later bust).
It's hard to argue that Australia has a physical shortage of housing stock, given that:
the growth in the number of homes over the past 25 years has outpaced population growth; and
the average number of people per dwelling in Australia has fallen for most of the past 50 years.
At the same time, based on the exorbitant price of fringe housing in Australia, such as the $325,000 plus Wallan homes discussed yesterday, it's similarly hard to argue that land prices are not being inflated way above the value that would exist in a deregulated environment.
In the same way, few people would argue that United States cities like Las Vegas and Pheonix are under supplied, particularly given the large tracts of homes now lying vacant. However, unlike Atlanta and Texas (both of which have similar topography), both of these markets experienced massive speculative housing bubbles and busts induced, in part, by unresponsive housing supply (see here and here for primers on the supply-side conditions pertaining to these markets).
Restrictive urban planning encourages land-banking, scarcity and speculation:
An article appearing last year in the Age, entitled Huge land bank puts squeeze on buyers, provides a nice overview of some of the restrictive land use practices plaguing Melbourne. You can assume that similar practices are being employed elsewhere in Australia, although I can't confirm for certain. Here are some of the key bits:
PRIVATE developers and the state government's property agency are sitting on a multibillion-dollar land bank, adding to Victoria's housing affordability crisis.

Private developers and land holders have almost 70,000 house blocks – worth an estimated $12.6 billion – that the state government has zoned for residential development and approved structure planning…

Yet new home buyers in growth suburbs have increasingly less choice, with just 1400 vacant lots currently available to the market in growth areas, a historical low…

Government developer VicUrban is sitting on a further stockpile of 25,000 housing lots listed for development across Melbourne, but selling just over 700 lots a year, or 3 per cent of its stock…

The drip feed of new house blocks comes as Melbourne land prices soar to new heights, out of step with declining prices in other Australian capital cities…

…the figures show that in the City of Whittlesea alone there are 23,000 residential house blocks ready to be built on. There were fewer than 400 lots on the market…

Matthew Quinn, managing director of Australia's largest residential developer, Stockland, recently explained the company would continue to keep about a quarter of its land holdings in a long-term bank to ensure maximum capital growth….

"We release land in a staged manner to meet demand because it would not benefit anybody to flood the market"…He said the price of land was at record highs because of record offshore and domestic migration to Victoria, grants to first home buyers and continuing under-supply of land available to developers.

Meanwhile, VicUrban values its thousands of hectares of city land at a conservative $462 million, but it could be worth billions when sold as individual housing lots to consumers. One of VicUrban's key responsibilities is to provide affordable housing for Victorians on its thousands of hectares of urban land – but it has now been accused of damaging affordability by hoarding available suburban land in development locations across Melbourne.

The government developer said it released its land on a commercial basis and declined to say how much land was released to the housing market at one time.
So there you have it. The Victorian Government, through zoning, has told the market where development will and will not occur. Owners of land on which development is permitted (i.e. the developers and other land holders) naturally and rationally restrict supply and raise their asking prices, in the full knowledge that they will not be undercut by land holders outside of the zoned areas. Meanwhile, owners of land outside of the zoned areas can expect little more than agricultural value when they sell. Add easy credit into the mix and the end result is that the land component of housing prices has exploded, fueling a speculative bubble.
It's hard to argue that these issues are not at play in Australia, particularly given the explosion of land values across all of the states (see below chart from AusHousingCrash):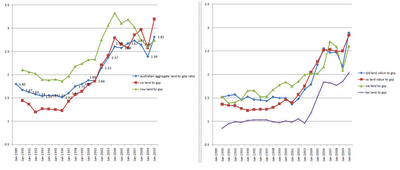 The data shows that the 2010 Victorian land bubble (3.19x GSP) is currently the largest in the country. It is also the second highest of all time, behind the 2004 NSW land bubble (3.32x GSP). At a national level, land to GDP is the highest it has ever been at 2.81x GDP.
Notice how land value/GSP ratios began rising in 1997 – just as the non-bank lenders entered the mortgage market en masse and led the reduction of mortgage lending standards? The reduction of lending standards, supported by the banks' heavy offshore borrowings and tax-based investment (e.g. negative gearing), was the demand trigger for the Great Australian Housing Bubble. But the supply-side restrictions – including zoning rules, urban growth boundaries, up-front infrastructure charges, and impact fees – ensured that the increased demand fed into rapidly rising prices, in turn encouraging mass speculation by investors and 'panic buying' by first home buyers.
Readers seeking a detailed literature review on housing supply-side constraints are encouraged to read this report by Glaeser and Gyourko.
Cheers Leith
Leith van Onselen is Chief Economist at the MB Fund and MB Super. Leith has previously worked at the Australian Treasury, Victorian Treasury and Goldman Sachs.
Latest posts by Leith van Onselen (see all)