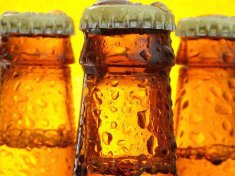 As we mentioned back in early January:
There is no sadder story for an Australian than the closing of a pub, but 300 at once should probably signify a national day of mourning. Yet as debt issuance contagion makes its way through the economy, the banks have no choice but to start picking off the low hanging fruit. Under performing businesses that were only viable in the "good times" are now in deep trouble, and today we note the banks are starting to bite the bullet and write them off.
At the time of writing those words, the banks foresclosure schedule was speculative. Today we note that the speculation has ended.
The spectre of more pubs going into receivership has been raised by the appointment yesterday of the receiver Ferrier Hodgson to the Icon Hospitality group, which runs nine pubs in Sydney.

The owners of the hotels, ING Real Estate Entertainment Fund, said the pubs, including the Dolphin in Surry Hills and the Commodore in North Sydney, are leased to Icon and represented about 39 per cent of the fund's annual lease income.

The ING fund recently sold the Bourbon Hotel in Kings Cross and the adjacent Club Swans to Chris Cheung for $22 million, about $30 million less than what it paid for them. Icon remains the manager of the hotel.

It is believed Icon, run by the hoteliers Damien Reed and Peter Wynne, owes the Commonwealth Bank close to $60 million, after it was hit by falling property valuations and rising interest rates.
With those 2 criteria, we are doubtful it will just be the pubs that are in trouble in 2011.