As you can imagine we are a bit busy this weekend; so we have opened the blog to a guest post. Peter W is someone who has left many interesting and educated comments on this blog, so we contacted him to see if he wanted to post an article with a round-up of his ideas.
Peter describe himself as an impassive local observer of 'Extraordinarily Popular Delusions and the Madness of Crowds'
Please enjoy his post on credit and housing.
---
It's a question of fundamentals
Here is a fundamental question for all the spruikers…
What is the difference between 'an investor' and 'a speculator'?
Given that the Australian housing market price increased in aggregate, from $2.5 trillion in 2005 to $4 trillion in 2010, a price gain of $1.5 trillion (10% p.a. compound)
Why is 'investor credit' collapsing?
Surely if you can generate an 8 – 10% compound gain in the past 5 years as you did over the past 20, 'investor credit' should be at the same 20 – 25% p.a. credit growth levels as 1990 – 2005
The answer of course is that 'investors' buy housing (or any other asset for that matter) because the cash-flows determine value i.e. the lower the price the higher the cash flow and the higher the price the lower the cash flow.
'Speculators' buy because the price is going up and sell because the price is going down.
In terms of money… 'Investors' out weight 'speculators' by a huge factor. But if it were not for speculator credit being included in the 'investor credit' category, 'investor credit' would be significantly negative. 'Investors' possess the bulk of national wealth because they are reasonably intelligent.
So prepare for lower clearance rates and a further retreat of 'investor credit' and 'investors' from the housing market.The only people left in this bubble are the speculators and struggling owner occupiers.
As 'investors' pumped credit into the housing market over the past 20 years housing prices far outstripped wages and therefore rents which is why rental yields have fallen to 3%.
This has created a self-fulfilling decline in the attractiveness of housing as an 'investment' that even 'investors' have recognised (The speculators have not worked this out… YET)
After putting in a stellar effort of 20 – 25% credit growth in the decade and a half prior to 2005 the trend decline in 'investor' credit is heading to zero in the very near future!
This leaves 'owner occupiers' as only source of new housing credit and net housing buyers. With new housing credit growth only supported by the 'owner occupier' population growth and overall wages growth, it's very likely that new housing credit will decline to 6% per year or less.
6% net credit growth on the existing $807 billion of 'owner occupier' credit is $48 – $50 billion per year. Assuming 25 year housing turnover rates and 1.8% new dwelling construction rates per year, roughly $232 billion of housing will come to market for sale each year at present prices.
The existing debt on the entire housing market is ($1157 billion / $4000 billion) roughly 29%.
So the $232 billion of annual housing coming to market, has roughly $67 billion of existing credit (29% LVR), and is seeking to find a sale from buyers only willing to add an additional $48 – 50 billion of new credit, for a total of $117 billion of credit.
LVR ratios change from 29% for 'the sellers' and with $50 billion new credit, leverage is increased to 65% for 'the buyers' to reach present sale prices, it's only possible for 'the buyers' to purchase $180 billion of this $232 billion of housing stock coming to market each year, leaving $52 billion of housing stock unsold, or roughly 100,000 houses (1.25% of total stock)
Given the long term track record of house prices following annual new credit growth, price gains will be very subdued at best… Unless the price does as it has always done in the past… track annual new credit growth.
$50 billion of annual new credit growth implies housing will slowly fall from $4 trillion to $2.5 trillion a 37.5% fall in house prices and this MAY happen over many years BUT…
When house prices do start to decline, do you think 'investors' (read speculators) will be at all interested in creating more credit to engage in a 4% negative gearing loss as prices fall?
Of course not.
What 'investors' (read speculators) will do is reduce their level of credit which will subtract additional credit from the $50 billion the home owners MAY possibly create.
A subtraction of credit by 'investors' (read speculators) of just 2% (1 investor in 50) would subtract $7 billion (2% of $350 billion) from annual new credit
That would put new credit growth at close to $40 billion which implies housing falling 50%.
The 20 year trend for housing credit growth.
The Australian government has been trying to prop up credit growth since the down trends in credit creation became obvious 2006
The Australian government is not winning!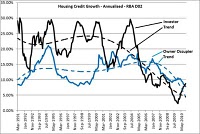 The long term link between house prices and credit creation…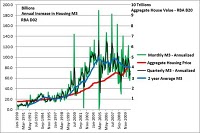 ---
Disclaimer: The content on this blog is the opinion of the author only and should not be taken as investment advice. All site content, including advertisements, shall not be construed as a recommendation, no matter how much it seems to make sense, to buy or sell any security or financial instrument, or to participate in any particular trading or investment strategy. The author has no position in any company or advertiser reference unless explicitly specified. Any action that you take as a result of information, analysis, or advertisement on this site is ultimately your responsibility. Consult someone who claims to have a qualification before making any investment decisions.