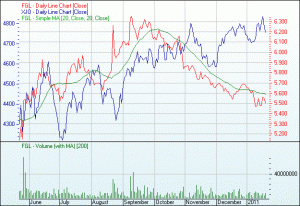 Australia's corporate sector, having resoundingly failed the test of globalisation, is now unerringly positioning itself to become part of the global food chain.
Many ASX listed companies are likely to be swallowed up by global players that possess the managerial skill so lacking in Australia's cartels. Just imagine how much more they will be worth if they are run by grown ups.
Foster's Group might be the next on the block. The rumours in The Age are that SABMiller, is setting up to make a lone bid for Foster's, having "overcome a key obstacle in a potential takeover bid for the local brewer". SABMiller, which has a small presence in the Australian beer market through its Pacific Beverages joint venture with Coca-Cola Amatil (CCA), may look to buy.
This is a story of a local cartel that is mismanaging globalisation. Australia hasthe highest beer margins of any market in the world. This may have something to do with Foster's and Lion Nathan enjoying 93 per cent of the Australian beer market.
Foster's is half of a very competitive — well, perhaps not so competitive — duopoly.
Like most cartels, Foster's chose an economy of scale strategy when it acquired the wine operations. This involved treating the product as a commodity and strangling as much profit as possible from a captive market share. Thus the company tried to get supply chain efficiencies by combining beer and wine only to discover that wine and beer cannot both be turned into a commodity.
Unlike the Australian beer market, where the product really is a commodity because of the high market shares, wine is a fragmented and diverse market that is global rather than national. Beer and wine are consequently very different products requiring different marketing, different customer strategies and, as a consequence different supply chain strategies. The high Australian dollar has not helped the international operations.
Result? Failure. The expected demerger of the wine operations is an admission of nothing else. Yet again an Australian cartel has shown it lacks the managerial skill to do more than squeeze a captive domestic market. The same kind of problems occurred when Foster's tried to establish a position in China only to get its fingers well and truly burned.
Little surprise that the share price has done little. The stock is trading 12% below its highs in last October. Its future earnings multiple is about 16 times, roughly in line with the overall market. The yield is attractive at 7.4%. But the huge market share in Australian beer remains attractive. As one broker report comments: "Foster's still presents a one-off opportunity for a US, European or Japanese beer company to purchase half of a duopoly. New management could work to stem market share losses through rejuvenated branding and advertising."
Quite.  Time to sell of more of the farm to someone who knows what to do with it.