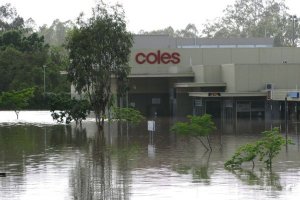 The real estate fallout from the Queensland floods has begun, and the re-pricing of flooded areas is underway.
If you have $250,000 in cash you maybe able to get this little beauty , but given the pre-flood median in that area was $300,000 I am very doubtful it will sell for anything like that price, if it does at all . The vendor is motivated, keen to sell and ready to negotiate, all reasonable offers will be presented to owner.  I wonder what the definition of "reasonable" is for a house that is uninsurable, you cannot get a loan for, and was under 2 metres of water last week.
So as I said when the flood was hitting
So imagine this; You purchased a house in the last two years, you didn't insure it for flooding because you were told that the Wivanhoe dam meant Brisbane would never flood. Now you have a $300,000 mortgage on a house that it under 10 feet of water that is literally worthless in every way.
Luckily for these people they purchased that house in 2003 for $221,000  so the losses may be bearable, but others will not be so lucky. This is what comes from being uninsured (possibly through no fault of your own) and indebted; because you are unlikely to get another loan to fix your damaged home in this situation.
Banks will be reluctant to lend money to flood victims who need to borrow extra funds to repair their homes, an industry expert says.

Steve Mickenbecker, head of research, product and strategy at Cannex, said many flood-affected homeowners would need to refinance their home loans and borrow extra money for repairs.

However, he said it was "inevitable" that the banks would get a lot tougher when it came to lending money on properties in the flood zones, despite the devastation and heartache involved.

"The worst-case scenario is, I'm afraid, probably not going to be uncommon," he said. "Say for instance someone couldn't get flood insurance or had the wrong type of flood insurance, and say they had bought their home in the past 12 months or so and therefore had minimal equity.

"They then go to the bank to borrow the extra $150,000 to $200,000 required to repair their flood-damaged home – but the bank refuses them the extra money because their home is now worth less than they paid for it or, even worse, less than they owe on it.
But have no fear; the properties will eventually sell.  According to some real estate agents "vultures" were falling over themselves to make offers on houses even as the water was rising.
Real estate agents were shocked to receive calls as early as Thursday, January 13 – the day the Brisbane River peaked at 4.46 metres, leaving 25,000 homes flooded – from buyers ready to snap up a bargain.

Several homes that were inundated around Brisbane were on the market at the time of the floods, many in highly desirable streets in Chelmer, Graceville, Fairfield and Fig Tree Pocket.

Some of the calls were from potential buyers hoping to swoop in and secure multimillion-dollar residences at a fraction of the price.

Steve Sutliff from Ray White Graceville said he "couldn't believe" the phone calls he was getting from people ready to take advantage of those whose homes had been flooded only hours earlier.

"I could use another word for these people but I'll be diplomatic and call them opportunistic," he said.
We will leave it to our readers to wonder about real estate agents passing morale judgment on others. Although I personally find this disturbing, I can't logically see the difference between this behaviour and attempting to make a low-ball purchase of a bankrupt business from an administrator. Maybe they are both morally reprehensible?
While landlords in other areas are expecting a short term rise in rents, the other side of the coin is that some in flooded areas have just been ruined.
Landlords across Queensland are likely to go bankrupt in the next few months, an industry expert has warned.

Bruce McBryde from the Property Owners Association said many landlords would struggle to make ends meet after having their properties ruined by the floods and no rent coming in from tenants.

"Landlords have already been finding it hard with the rising cost of interest rates and many have relied on the income from the rent to get by," he said.

"Without the rent from their tenants, plus the huge cost of making repairs to their properties … they'll go broke."
I also wonder whether landlords will get any help from private charity. I am sure people would be very happy to see the Premier's flood appeal going to help rebuild the family home of an owner-occupier, I am not so sure the same could be said for investment properties.
And as if all of that wasn't bad enough, the banking flog are predicting a good "kick while you are down" for the indebted with their double whammy of inflation and broken window theory.
Mortgage holders should expect up to another three interest rate rises this year, despite the big blow to the economy expected from the devastating floods in Queensland, northern NSW and Victoria, economists say.

While economic activity will take a hit from the freak weather, in broader terms it is expected the floods will simply result in a shifting of such activity to later in the year.
I think I will to wait to see the final bill, the flow-on effects to the broader economy and the GDP effect before passing judgment on whether this is going to be true or not.