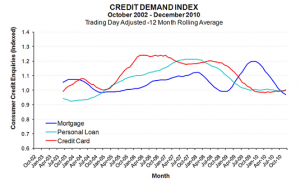 I have mentioned Veda Advantage previously. They produce a nice report on Australian credit demand on a quarterly basis. Today they released their latest report. For those who understand credit dynamics and its economic effects this report is very concerning.
Personal loan enquiries rose 2% year-on-year during the December quarter, the first sign of growth after 11 consecutive decreases since the January to March quarter of 2008. This latest rise comes after a 2.2% year-on-year fall in personal loan applications in the July to September 2010 quarter, compared to the same quarter in 2009. In the three months to the end of December 2010, the largest growth in personal loan applications came from New South Wales (4.4%) and Western Australia (4.3%). 

Consumer demand for credit cards maintained its upward trend rising 2.9% in the December quarter over the same quarter in 2009, following a 3.6% increase recorded in the July to September quarter compared to the same quarter in 2009.

Mr Luffman said the lift in unsecured credit is tempered with the drop in mortgage applications, now at their lowest point in eight years and below levels seen in the middle of the GFC.

Mortgage enquiries during the October to December quarter were down 16% over the same quarter in 2009 falling at a slower rate than the July to September quarter when applications fell 23.6% compared with the same quarter in 2009. This follows a 20% drop in the three months to the end of June, and a 15% drop in the three months to the end of March 2010.

"Mortgage applications over the past two years appear to have been demonstrably impacted by the GFC – declining in late 2008 and then strengthening in 2009 during the Government stimulus** before winding back  in 2010. Overall, mortgage demand fell by more than 19% on average across the 2010 calendar year.
The rise is unsecured credit is worrying due to the previously mentioned state of credit card debt, and given the fall in other credit types this gives me the impression that people are taking on this type of debt to stay afloat. Hopefully I am wrong.
It must be noted that this report is demand for credit not credit issued, so some people may be making multiple applications but accepting just one (something that is bad for one's credit score) making the actual data worse. Either way the overall demand for credit is down near the 2003-05 level. This is nowhere near enough to sustain the economy at previous levels of consumption and clearly explains what other cannot.
It must also be noted that new legislation on lending practices began as of January 1. We will have to wait for the next data release to see its effects, but I can't imagine it will be positive.