It was reported today that retail was slightly up in November.
Retail spending has increased 0.3 per cent in November, after the Melbourne Cup day interest rate rise.

Retail trade rose in the month to a seasonally adjusted $20.328 billion, compared to an upwardly revised $20.272 billion in October, the Australian Bureau of Statistics says.
We however were a bit suspicious about how these numbers are being reported given some of the other information about the economy, so we thought we would take another look at the data coming out of the ABS.
The numbers reported above are seasonally adjusted, and in this case a month to previous month comparison. As we have said before we don't have a problem with seasonally adjusted numbers except that these figures tend to be misreported in the main stream media.
We prefer to find long term data series that allow us to determine the patterns in the data, and also to see the raw data if possible. The ABS is nice enough to supply us all of the data we need.
Once you produce your first graph with the data two things really stand out.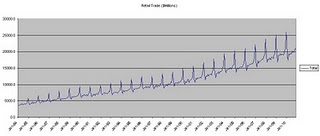 Firstly, Christmas really is a big deal for retail. Secondly, the data isn't adjusted for inflation. As you can see from the data the months leading up to Christmas and the Christmas period are "where the magic" happens; so we had a look at those lead-up months over the last 20 years just to see the unadjusted rate of change in the data for those months.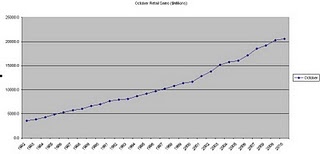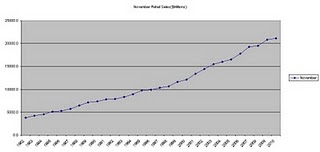 Obviously, you would expect to see the rate of change vary over the years depending on the rate of inflation, and probably due to other variables such as population growth. However what you will notice from both of those charts is the flattening out of the growth in the between the 2007 and 2008 figures (GFC), the effect of the stimulus and recovery in the next year, and once again the flattening in the latest year
However, until the data is adjusted for inflation it is difficult to get a sense of how well retail is actually performing year on year. Roughly; to state that retail was actually growing you would expect that the sales figure for the current year were greater than the inflation adjusted previous year. If it is not then, in inflation adjusted terms, retail has actually gone backwards even though the total sales may have increased.

With this in mind we took October, November and December for each previous year, adjusted it for that years inflation, and then charted the difference between that inflated number and what the actual sales figure were.

In this chart any time the figure drops below zero means that the increase in retail sales didn't keep up with inflation for that month YoY. Above the line means it did and was an "actual" improvement.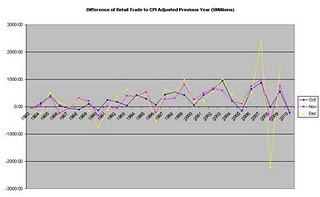 Now we have to clearly state this is rough, and we expect to be assaulted for it.
There are many variables that effect retail and cpi and many variables that effect those variables, and as we stated above this data also isn't adjusted for population. The raw data itself is also taken from a "sample" by the ABS. However, after understanding that this is an estimate, you can still get a sense from the chart that something went wrong in 2010.
Australia was being told by its political elite that Australia had "weathered the storm" and that the economy was "booming", yet it seems that retail was having another GFC.
We will just need to wait for December's data to see if that downward trend continued into Christmas.
---
Disclaimer:
The content on this blog is the opinion of the author only and should not be taken as investment advice. All site content, including advertisements, shall not be construed as a recommendation, no matter how much it seems to make sense, to buy or sell any security or financial instrument, or to participate in any particular trading or investment strategy. The author has no position in any company or advertiser reference unless explicitly specified. Any action that you take as a result of information, analysis, or advertisement on this site is ultimately your responsibility. Consult someone who claims to have a qualification before making any investment decisions.