A very nice person from the ABS replied to our e-mail and has set us in the right direction. It turns out that the ABS does not record the number of mortgages issued for investment properties. The response was:
Unfortunately we do not capture any data on the number of investment (non-owner occupied) housing commitments. I agree that in this economic climate it is definitely an area of interest, however the reason is that APRA (who collect the information on behalf of the ABS) do not ask for the number of investment loan approvals in their forms. Hopefully this will be subject to change once a collection review is implemented by the ABS, however until then there is no information available on investment loan approval numbers.

However, 5609.0 does publish the value of investment housing commitments in Table 11, which is available online in an excel format with the rest of the publication.

http://www.abs.gov.au/AUSSTATS/[email protected]/DetailsPage/5609.0Oct%202010?OpenDocument

In addition, more detailed break-downs are available in 5609.0's sister publication 5671.0 Lending Finance Australia for individual state levels etc. Most of our users generally apply an average loan size to this to derive an estimate of the number of loan approvals.
The means that we cannot get a real value for the number of investment loans being issued each month. This is a bit of a pain given this would definitely be useful if you want a clear view of what is happening in the market. It is however something to remember in the future; if you read about this figure in the media remember that this is an estimated derived value and cannot be trusted if the reported source is the ABS. Well at least not yet.
However the 5671 dataset we were told about was very useful, because if you combine the monetary figures in datasets 5609 and 5671 then you get an entire picture of debt issuance for housing, at least in monetary terms.
So here are a couple of charts with the combined data since mid 1991. Firstly for all of Australia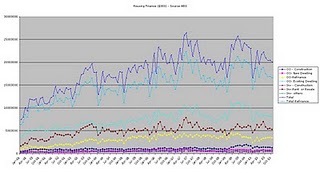 Once again, even with the investors added, it is very hard to get excited about the most recent data. The trend has been down since September 2009, which was only there in the first place due to the first home buyers grant boost. You can see that the market is still settling back into the downward trend that started way back in July 2007. Which puts our previous comments about stimulating debt into perspective.
Another look at our favorite states, firstly Queensland.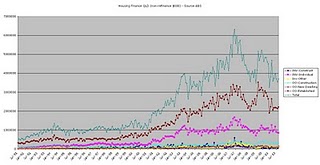 and secondly Western Australia.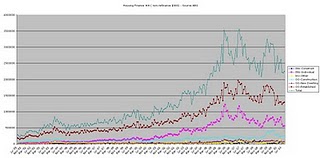 Again it is easy to see why these supposed "BOOM" economies aren't doing anywhere near as well as people think they should be. The large slowdown in debt issuance is pulling the economies down, and it is obvious from the rising stock on market and the falling prices that it is not enough to keep the Ponzi market stable. As we have said before, without further government intervention they are in real trouble. The Queensland based banks are already showing signs of this burden.
So all-in-all quite a successful dive into the numbers to clear up what is "actually" going on.
---
Disclaimer: The content on this blog is the opinion of the author only and should not be taken as investment advice. All site content, including advertisements, shall not be construed as a recommendation, no matter how much it seems to make sense, to buy or sell any security or financial instrument, or to participate in any particular trading or investment strategy. The author has no position in any company or advertiser reference unless explicitly specified. Any action that you take as a result of information, analysis, or advertisement on this site is ultimately your responsibility. Consult someone who claims to have a qualification before making any investment decisions.