Lots of mail this week. Thanks to everyone who is sending us e-mails just to let us know they are reading along and enjoying the content.
As a follow up to Auction Unspectacular! Jase send us the following:
I read your blog everyday and its absolutely fantastic stuff – I love it!
Check out last week's auction data: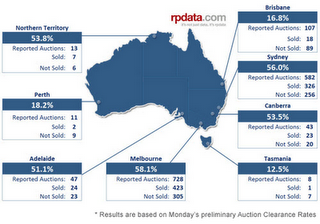 By the way – the actual number of auctions in VIC was over a 1,000 and over 750 in Sydney. If you use those numbers the actual clearance rate was 42% vic and 43% syd – its bullsh*t the agents don't report properly!
Well we will leave it up to our other readers to decide their own opinions on the data collection practices of the real estate industry. However it does not really matter, as we showed previously there has been a progressive slide in clearance rates for over a year. These latest stats are simply a continuation of that trend. As we have said before, and continue to say it is "the trend that matters".
Mihael writes:
Just wanted to send the link below about an interesting piece: "Rate rises turn homeowners into Scrooge"
From that article:
Many Australians are struggling with the cost of everyday goods as well as services such as power and water, and they needed some interest stability, he said.

Unsurprisingly, 35 per cent of the 452 respondents to the survey said the RBA and banks had turned Santa into Scrooge.
Humbug !! Interest rate stability ?? Are we sure that is what they need ? Not more affordable housing ?
We did however amusingly note that the "experts" over at realestate.com.au had decided to reword the title of the article, How the RBA stole Christmas. We can't imagine why ?
Jerry was doing the rounds with an e-mail.
What are the similarities between Google searches in US during subprime crisis http://www.google.com/insights/search/#q=housing%20bubble&geo=US&cmpt=q
And Google searches in Australia now
http://www.google.com/insights/search/#q=housing%20bubble&geo=AU&cmpt=q
It is just a big shame that people awake from their thoughtless slumbers when it is too late to fix things.
While doing some research on bubbles a reader David found some interesting history about how misbehaving bankers were once treated.
The newly appointed First Lord of the Treasury Robert Walpole was forced to introduce a series of measures to restore public confidence. Under the guidance of Walpole, Parliament attempted to deal with the financial crisis. The estates of the directors of the company were confiscated and used to relieve the suffering of the victims, and the stock of the South Sea Company was divided between the Bank of England and East India Company. A resolution was proposed in parliament that bankers be tied up in sacks filled with snakes and tipped into the murky Thames.
For Admiral Norris's sake we hope Captain Swan never finds that wikipedia page.
And final Tanya sent us an e-mail about some robotic voiced teddy bears explaining what QE in the USofA was all about. It is very one-sided and obviously politically motivated, but still funny enough.
Have a good weekend. It is end of the month next week so we will share some more site stats. With Europe on the verge of another implosion, Korea on the verge of war and China getting inflation wobbles it is going to be an interesting and possibly scary week ahead.
---
Disclaimer: The content on this blog is the opinion of the author only and should not be taken as investment advice. All site content, including advertisements, shall not be construed as a recommendation, no matter how much it seems to make sense, to buy or sell any security or financial instrument, or to participate in any particular trading or investment strategy. The author has no position in any company or advertiser reference unless explicitly specified. Any action that you take as a result of information, analysis, or advertisement on this site is ultimately your responsibility. Consult someone who claims to have a qualification before making any investment decisions.