The outlook revision on the foreign currency ratings reflect our recognition of the risks stemming from New Zealand's projected widening external imbalances and the country's weakened fiscal flexibility. New Zealand's vulnerability to external shocks, arising from its open and relatively undiversified economy, also raises risks to the country's economic recovery and credit quality…

Net external liabilities that predominately reflect dependence by households on foreign capital to fund consumption and property investments are expected to rise to 94.3% of GDP by 2014 from 82% in 2010. Moreover, New Zealand's gross external financing needs (current account payments plus short-term liabilities to nonresidents, including nonresident bank deposits by remaining maturity) are expected to average 372% of current account receipts plus usable foreign exchange reserves over the next two years compared to 116% for the 'AA' median….

Australian banks own most of the New Zealand's financial system [nearly 90% of bank assets]. Although we rate the four largest Australian banks 'AA', and while all of them consider New Zealand a core market, these banks themselves borrow heavily from offshore sources….

The main risk to the ratings would be a significant weakening in the credit quality of New Zealand's banking sector, which is largely owned by the Australian banks. This vulnerability reflects the current account deficits and high private-sector external debt. A significant portion of this deficit has been financed by private-sector borrowings through the banking system [my emphasis].
As I said in my New Zealand Housing Bubble article, New Zealand and Australia have undertaken a similar approach to borrowing and lending in order to fuel their respective housing bubbles, namely:


1. an increased emphasis on housing lending relative to other forms of lending (such as lending to businesses); and, more importantly

2. an increased reliance on offshore funding (borrowing) via the international wholesale debt markets.
These two factors have been the key enablers of the surge in household debt that has fuelled both countries' housing bubbles. Without these two developments, the banks would have had a significantly smaller pool of funds to lend to households, which would have ensured much slower house price growth; because if households are unable to borrow large sums of money, they can't pay high prices.
On the second point, the below chart, which has been derived from RBNZ and RBA data, shows the extent of offshore funding (borrowing) by the banks: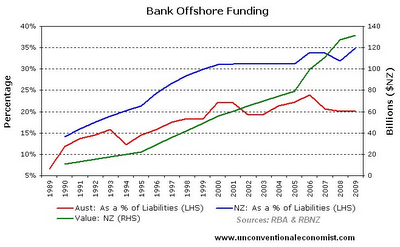 As you can see, the level of offshore funding by New Zealand's banks as a percentage of their total liabilities has increased from around 15% ($NZ11 billion) in 1990 to around 35% ($NZ132 billion) currently. Australia's banks, by comparison, have seen a similar, albeit smaller proportional increase from 5% ($A12 billion) in January 1989 to 21% ($A515 billion) currently (click to see a detailed chart for Australia).
Furthermore, over half of New Zealand's offshore funding by the banks is short-term, with a term-to-maturity of less than 12 months (see below RBNZ chart):
And it's the banks' heavy offshore borrowings to pump housing that has overwhelmingly created New Zealand's net external debt that has S&P so worried (see below RBNZ chart).

Of course, it's a similar story in Australia, where the banks' heavy offshore borrowings for housing has also led to a large increase in net foreign liabilities (click to view chart).

Anyway, back to the S&P email.
The economy's continued recovery depends mainly on the strength of global recovery and support from regional trading partners – particularly Australia and China.
A high level of household debt leaves growth prospects vulnerable to a sharp rise in either unemployment and/or interest rates. New Zealand's savings rate of 15.7% of GDP in 2010 is low relative to its 'AA+' (34.4%) and 'AAA' (23.4%) rated peers, and explains the country's sizeable current account deficits. Household liabilities to disposable income are 50% higher (at around 156%) than 10 years ago and leave the sector susceptible to weaker labour and property market conditions and higher borrowing costs. The corporate sector is also exposed to terms of trade.
Let's not forget that Australia's household debt to disposable income is slightly higher than New Zealand's, and its housing market even more inflated (see below charts):

As I said previously, New Zealand is essentially a microcosm of Australia, minus the mineral resources. Given Australia shares essentially the same banking system, a ratings agency downgrade like this one handed out by S&P should ring alarm bells in Australia, since it provides a glimpse of what could happen if problems develop with the China growth story.
It also highlights the pressing need for a warts-and-all 'Sons of Wallis' financial system inquiry in order to identify the key risks in the financial system – such as the banks' over-reliance on offshore funding and over-committment to housing lending – and provide the foundation for developing a safer and more efficient financial system going forward.

Cheers Leith