Regular followers would remember the below chart from my Battle of the Bubbles article, measuring potential overvaluation of the housing market by reference to total residential housing value to GDP.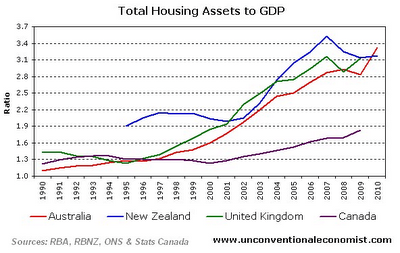 Well now AusHousingCrash has provided an even better chart comparing the aggregate land values (residential + commercial + rural) to GDP/GSP from the Australian Bureau of Statistics State Accounts (see below).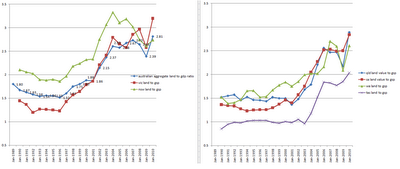 The data shows that the 2010 Victorian land bubble (3.19x GSP) is currently the largest in the country. It is also the second highest of all time, behind the 2004 NSW land bubble (3.32x GSP). At a national level, land to GDP is the highest it has ever been at 2.81x GDP.
Since the housing bubble is actually a function of the land bubble – since construction costs have remained fairly stable – this chart provides another useful measure of potential overvaluation of the housing market.
And, although my residential housing value to GDP and AusHousingCrash's land value to GDP uses different data, its the overall change and trend that matters. In this regard, both metrics clearly suggest that Australia is experiencing an unmistakable housing bubble.
With house prices flat in the September quarter, positive GDP growth, and rising interest rates, Australia's housing/land values relative to GDP/GSP are likely to have peaked, particularly given the significant headwinds facing the market over the coming decade (see my Australian Housing Bubble post for an overview of these issues).
It's now a question of whether we'll experience a slow deflation or a sharp correction. I'll have more to say on these matters in future posts.
Cheers Leith
Latest posts by Leith van Onselen (see all)