Just a quick post to let our readers know that we just noticed David Llewelyn-Smith ( assuming it is the real one ) has started a blog. It is obviously in its infancy, but given his good work on Business Spectator it could be one to keep your eye on.
We noticed in one of his latest posts he reviews the latest waffle from the RBA "research" team. We actually read that report yesterday and noticed a few extra issues that David did not mention in his post . The report states:
Indeed, much of the increased demand for housing and finance came from investors (as opposed to owner-occupiers). By 2003, nearly 45 per cent of all new housing loans were for investment purposes, compared to around 25 per cent over the four years prior to 2003, and an even lower share prior to this.

….

there were fundamental factors underpinning the rise in housing prices over the second half of the 1990s and the early 2000s in Australia. However, developments in 2002 and 2003 began to cause some unease for policy-makers, as the pace of growth in housing prices and credit were accelerating to very rapid rates and there were signs that lending standards were declining in a number of important respects. The very prominent role of investors in the housing market also suggested a strong speculative element.
We also note that Business Spectators' daily chart also has an overview.
… the RBA contends that investors play less of a role in today's property market and that banks have improved their lending standards, thanks to moves by the central bank and APRA. The statement suggests house prices may be less of a concern at the bank's next policy meeting in October.
Improved lending standards? Really !! , The prominence of investors suggest speculation, but everything is ok now because investors are playing a much lesser role.
Are they sure ??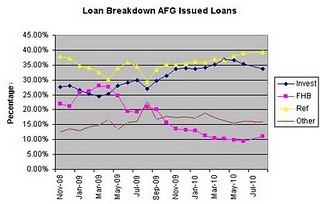 ---
Disclaimer: The content on this blog is the opinion of the author only and should not be taken as investment advice. All site content, including advertisements, shall not be construed as a recommendation, no matter how much it seems to make sense, to buy or sell any security or financial instrument, or to participate in any particular trading or investment strategy. The author has no position in any company or advertiser reference unless explicitly specified. Any action that you take as a result of information, analysis, or advertisement on this site is ultimately your responsibility. Consult someone who claims to have a qualification before making any investment decisions.