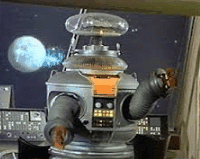 With Sydney house prices reaching for the stars: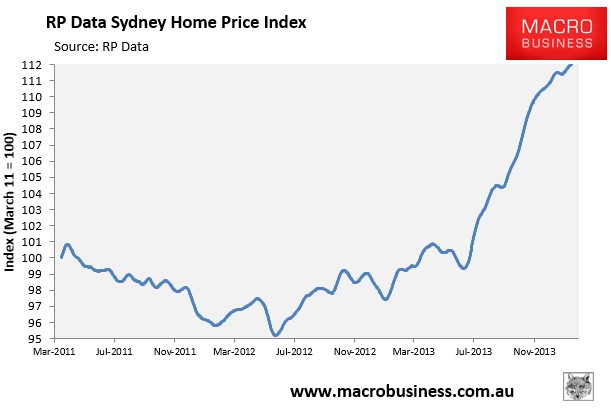 Driven by an epic boom in investor demand: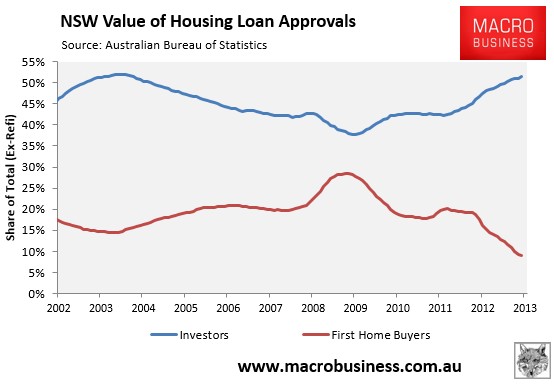 Data providers – Australian Property Monitors (APM) and RP Data – have both issued warnings that Sydney housing values have overshot fundamentals and risk a slowdown:
"All the pointers are there showing that the Sydney investor market has overshot its fundamentals," said the senior economist at Australian Property Monitors, Andrew Wilson…

"Yields in Sydney are plummeting, which is no surprise given house price rises, but flat-lining house rents aren't helping the situation."

RP Data senior research analyst Cameron Kusher agreed, and said investors thinking of getting into the market had missed the boat.

"Whether you are chasing capital growth or rental return, neither look particularly strong at the moment, certainly not as strong as 12 to 18 months ago," he said. "Given that, I do think that we will see a pull-back in investor activity this year"…

"If you can't get a tenant you have no cash flow," [Dr Wilson] said. Without cash flow "those that have gone short or have highly geared investments will have the sell".

Mr Kusher said a rise in unemployment also could start a sell-off. "The forecast data shows that the unemployment rate should start to climb," he said. "If people lose their jobs and need some capital, the investment property will be the first thing to go."
Even though Sydney's rental yields have plummeted, they remain well above Melbourne's, which are by far the lowest in the nation (see below table).

What does this say about Melbourne's fundamentals?
Related Posts via Categories