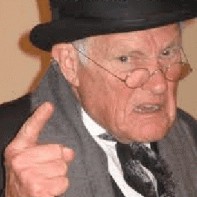 John Roskam, executive director of the Institute of Public Affairs, has today posted an article in the Australian Financial Review arguing that the age of entitlement really is over:
Hockey is right. The age of entitlement is over. In his speech [last year to the Institute of Economic Affairs in London] he talked about the welfare entitlements of individuals. Everything he said about individuals applies to corporations as well.

"As the electoral pendulum has swung between socialist and conservative sides of politics, the socialist governments – often winning electoral success thanks to the funding from unions – have created a huge array of entitlements for selected classes of individuals."

After "individuals" Hockey should have added "and industries"…

However, it's one thing to say it to a free market think tank in another country while you're in opposition…

Hockey's assessment of what "economic liberals" usually do is spot on: "When the electoral pendulum swings, conservative governments have come in promising to fix the problem, but in most instances have just trimmed around the edges without addressing the real problem of the growing entitlement burden"…
Joe Hockey's assessment that conservative governments generally talk big on entitlements but deliver little is spot on. Just look at the Coalition's own actions. When the Howard-Costello Government were in office, Australia witnessed a ballooning of entitlement spending aimed at middle class families, the aged, and wealthy retirees. We saw baby bonuses handed out, increases in aged pensions, and generous tax breaks for superannuation – tax free superannuation for retirees and cuts to the superannuation contributions surcharge on higher income earners.
In the case of aged pensions and superannuation tax breaks, Australia now finds itself in the unsustainable situation whereby benefits to households aged over 65 years of age have ballooned just as their incomes and wealth have grown, which will place undue pressure on the Budget as the baby boomer generation retires and the share of workers in the economy shrinks.
And let's not forget that while in opposition, we witnessed the Coalition oppose nearly every reform targeted at big business that would have improved the sustainability of the Budget, including opposing the mining tax and changing fringe benefits taxes on leased cars, as well Abbott's promised paid parental leave scheme, which will lavish taxpayer largesse on higher income families.
Until the new Government tackles the key underlying causes of Australia's structural Budget deficit – overly generous superannuation concessions and means testing of the pension – and begins to say "no" to rent seekers, then I will continue to view talk about ending the age of entitlement as nothing more than empty rhetoric.
unconventionaleconomist@hotmail.com
Related Posts via Categories