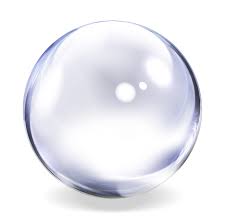 Regular readers will note that in the past several weeks I have acknowledged a new truth: that the central banks of the world are in the process of successfully inflating an entire new generation of asset bubbles in an environment of unresponsive real growth. Today my thesis is printed back to me by the head of Citi's global credit, Matt King:
"There is a mixture of [central banks] consciously persuading themselves that there is not a problem in so far as it is always difficult to tell in a bubble that there is a problem…What the global central banks seem to be doing is saying, 'We are struggling to generate growth; I know, let's create a new house price bubble – that worked last time around, maybe it will this time around too'…The central banks feel that their only choice is to keep plugging away. They have only got one lever and they intend to keep on pulling it, even if that ends badly…Don't do what the central banks want. Don't reach for yield with the whole of your portfolio and buy something that turns out much more risky that you thought it was later…What we are saying now is, position for a new bubble to form but at the same time try and recognise that it will be a bubble and don't jump in with both feet. But yes, that [UK and US real estate] is one of the markets that is likely to benefit, because of continuous stimulus from central banks who feel they have no alternative".
In other words enjoy it but don't believe it. There's plenty of evidence today that some are already acting on their disbelief. From Bloomberg:
Hedge-fund manager David Einhorn is taking a more conservative approach to his investment portfolio even as wagers that stocks would fall caused his results to trail the Standard & Poor's 500 Index.

"As the market continued its relentless climb, we've become more conservatively positioned," he said.

…"The losses in the short book were broad-based, and we continue to be short most of the companies that contributed to the loss," he said. "These include a variety of companies which tend to have conventional valuations, rather than speculative story stocks that have caused excessive pain for other short sellers."

…Einhorn, 44, has sounded alarms about the climb in asset prices for months. Last year he compared excessive stimulus by central bankers with eating too many jelly donuts, a habit that can be a threat to long-term health, according to an article that quoted him in Grant's Interest Rate Observer.
Last night US data was also of interest. Some of it was promising, suggesting taper is alive. Weekly unemployment claims fell:
In the week ending October 26, the advance figure for seasonally adjusted initial claims was 340,000, a decrease of 10,000 from the previous week's unrevised figure of 350,000. The 4-week moving average was 356,250, an increase of 8,000 from the previous week's unrevised average of 348,250.
Though the four week moving average is still climbing, from Calculated Risk: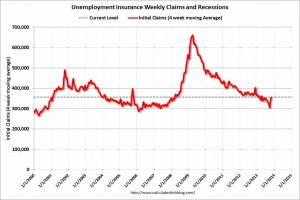 As well, the Chicago PMI went bananas, spiking at its fastest rate in thirty years:
The October Chicago Business Barometer rose to 65.9 in October from 55.7 in September, led by double digit gains in New Orders, Production and Order Backlogs. October's gain placed the Barometer at the highest level since March 2011 with companies seemingly unaffected by the government shutdown. New Orders soared to their highest level in nine years, adding to two prior months of gains while Production expanded to its highest level since February 2011.Order Backlogs leapt out of a contractionary phase to the highest since March 2011. In line with expansion in New Orders and Production, Employment rose to its highest since June 2013, but remained well below the level of New Orders and Production.Commenting on the MNI Chicago Report, Philip Uglow, Chief Economist at MNI Indicators said, "The government might have shut down but Chicago area companies powered ahead in October as orders and production surged.""While it is a little surprising to see such a large rise in activity, the consistent increase in the Barometer over the past four months suggests the recovery is gaining traction," he added.
Consensus was only a reading of 55. This looks like a an outlier to me though, as I've said before, I do expect the US to bounce out of the shutdown as it did in 2012 with a mini inventory build so it's can't be completely discounted. That in itself is a warning to stock markets. If the same happens again it will threaten the rally with solid data. What a world!
Meanwhile Goldman offered the following rationale for an ongoing housing construction recovery:
The housing news has deteriorated recently across a broad set of indicators, and the FOMC accordingly downgraded its assessment of the housing market in Wednesday's post-meeting statement. How much should we worry about our forecast that residential investment will continue to grow 10-15% and directly contribute 1/2 percentage point to real GDP growth next year?

The risks to our housing forecast are on the downside in the near term, but there are three reasons why we still take a positive view beyond the next 1-2 quarters. First, there is a clearly identifiable reason for the recent weakness, namely the sharp increase in mortgage rates. Some of this increase has reversed recently, and barring another shock the impact should be mostly complete by early 2014.

Second, the fundamental supply-demand picture for housing still looks positive. If the population grows at the rates projected by the Census Bureau and the size of the average household trends sideways to slightly lower–in line with historical trends–we estimate that household formation should climb to 1-1.3 million and steady-state housing demand to 1.3-1.6 million. This implies significant upside for housing starts from the current 900,000 level once the remaining excess supply has been eliminated.

Third, while home sales and starts have disappointed recently, house prices have continued to rise at double-digit rates, with few signs of deceleration. This suggests that the supply/demand balance in the housing market still looks favorable. That said, we continue to expect that home price appreciation will slow over the next year.
On the bad news is good news side, Bloomie's Consumer Comfort Index plunged again and is now around Q3 2012 levels:

The net outcome for markets was that stocks fell half a percent. Bonds were largely flat. But the US dollar jumped 0.7 of a cent, taking down gold (1324) and the Aussie (94.5) in the process: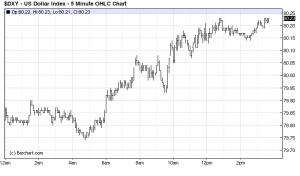 Stay nimble and be in cash in time.
Related Posts via Categories