Don't look now but a turn in China's steel market suddenly has all green lights for the iron ore market:

Swaps are close to breaking upward again. Rebar average looks to have found a bottom, and futures are tracking sideways, Dalian futures have stabilised and spot has bounced off resistance in the low $131. As DFM used to say, if you're going to use technicals always wait for the break.
In news, Deutsche has downgraded FMG:
We have compared Fortescue, BHPB and Rio's Pilbara operations on most operating metrics, and have compared the three companies on numerous financial metrics at the group level. We conclude that FMG is expensive on an NPV basis vs. the majors, which is underpinned by our detailed analysis on long run EBITDA margins across the three businesses. Even though FMG is degearing at a fast pace, we believe the operating and financial risks remain high.

Our detailed analysis shows that FMG should achieve a long run EBITDA margin of 33% at our long run iron ore price of US$80/t (CIF, real) compared to BHPB and Rio Tinto's long run margin of over 50%. The majors sell a premium product (higher grades, lump, lower impurities and moisture), which will translate into a c. US$8/t higher realized price. The majors should produce at a US$12/t lower all-in cost due to lower strip ratios and sustaining capex, greater economies of scale, and less wet processing. Looking at mine life, despite the majors having over 50 years of resources at peak production compared to 32 years for FMG, we are conservative and assume a c. 30 year life for each.

It is clear that FMG is cheaper on a PE basis (by 6-7 points), but we believe this discount is due to the high gearing and operating risks, and lower margins. On our forecasts, FMG is ex-growth in FY15 and is more expensive from FY18. FMG's gearing (ND/E) at c. 150% is higher than Rio at 35% and BHPB at 40%. On our forecasts, it will take 4 years to reduce gearing to that of the majors. The de-gearing story is not compelling enough for us and they are certainly not out of the woods yet. Looking at free cash flow on a post sustaining capex and debt repayment basis, FMG has a lower free cash flow yield than the majors. Pricing in a buoyant iron ore market (Figures 2 and 8) FMG is trading at 1.3x to NPV compared to BHPB on 0.8x and Rio on 0.7x. The stocks are discounting a flat Fe price of US$88/t CIF, US$66/t and US$73/t respectively. Or alternatively FMG is pricing in spot Fe of US$130/t until FY16. We think the current iron ore price is not sustainable and expect the price to drop to an all-in cost support level of US$105/t by 2H14 on additional seaborne supply and a moderation in Chinese steel production growth.

Our PT is set broadly in line with our A$4.16/sh NPV (assumes LT US$80/t fines CIF, 0.80 AUDUSD). Upside risks; stronger production and Fe price.
I guess this is a bit of a no-brainer after this: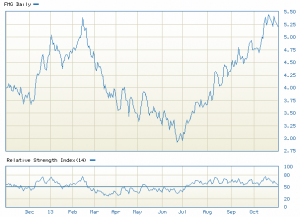 Deutsche sees iron ore at $105 later next year. So do I but have been impressed by the cartel's ability to hold the price too date. However, as supply grows and demand slows…
Meanwhile, in India, the agonising progress for Goan iron ore goes on:
The Supreme Court today said it may consider constituting one or two panels for looking into various aspects of iron ore mining in Goa including fixation of annual cap over the volume of extractions with an aim to preserve the mineral for future generations. The forest bench headed by Justice A K Patnaik said either one or two separate committees can be appointed to look into two issues of fixing the annual cap on the iron ore mining by keeping in view the principle of inter-generational equity and the environment carrying capacity. Representational image of iron ore mining. Reuters The issue of environment carrying capacity relates to what extent the environment and surroundings of a mine can sustain or bear ore extraction activities. "So, basically two things have to be found out which are the environment carrying capacity and the question of inter-generational equity. May be two expert bodies can also be formed," the bench also comprising justices S S Nijjar and F M Ibrahim Kalifulla said. "We can reserve our order till they (panels) come out with the reports," it said and asked Prashant Bhushan, the counsel for NGO Goa Foundation, to apprise it as to whether any court in the world has dealt with the issue of inter-generational equity to preserve natural resources for future generations. Earlier, during the hearing, Goa Government had said that 45 million tonnes of iron ore extraction can be allowed annually.
Panels, committees, courts, auctions and caps. No imminent threat here!
Related Posts via Categories