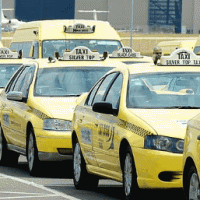 Back in June, I posted an article supporting proposed reforms by the Victorian Government to taxi licensing:
A key factor behind the unreliability of the taxi industry across Australia is that taxi licences have been artificially restricted via government regulation. In the case of Melbourne, the overall number of licences has barely risen since the 1970s, despite the huge growth in the city's population.

Reflecting this undersupply, the price of Melbourne taxi licences had also skyrocketed – from under $130,000 in 1989 to over $500,000 in 2012 – an increase of over 7% per annum.

This deliberate undersupply of taxis has had some deleterious impacts on the industry.

The lack of competition and "closed shop" mentality has meant that there is minimal incentive to improve performance and provide better services. It has also driven a wedge between the driver, who typically earns a pittance, and the customer, who pays too much for the service. For example, according to the agency which sets taxi fares in New South Wales, a taxi driver earns a paltry $29,000 a year, whereas customer surveys of taxis costs and service typically show widespread disatisfaction.

As with land, the rental value component of taxi fares goes to the owners of the plates, just like rents on land. So taxi drivers are typically left paying the licence holder an exorbitant share of their fares – often 50% – leaving them with little left over.

The restriction on taxi licences is totally unnecessary, punishing drivers whilst also leaving customers paying high prices for (often) poor service.

Fortunately, change is afoot. Former ACCC Chairman, Professor Alan fels, was recently engaged to lead the Victorian Taxi Inquiry, which recommended a comprehensive overhaul of the licencing system. Under the reforms, the government will sell licences for $22,000 a year and will no longer restrict how many are sold.

By increasing the supply of taxi licences and lowering their cost, more drivers will be able to purchase their own licence, operate independently, and keep what they earn. Customers should also benefit from more taxi availability and potentially lower prices…

Ultimately, restrictions on taxi licences serve no useful purpose and are a relic from Australia's protectionist past. Far better to set performance standards and allow anyone who wanted a taxi licence to obtain one, subject to meeting those standards.
It seems the plan for the Victorian Government to sell new taxi licences for $22,000 a year has been deferred by the Taxi Services Commission in favour of improved standards and a new colour scheme to promote competition:
Fleets of different coloured cabs could soon appear on Melbourne's roads, distinguishing themselves from conventional yellow taxis, in one of several innovations designed to boost competition and raise standards in Victoria's demoralised taxi industry.

Graeme Samuel, head of the new Taxi Services Commission, will on Tuesday present his vision for sweeping change to the taxi industry…

Mr Samuel is expected to tell an industry gathering at the Victorian Taxi Association conference that the changes will raise taxi service standards and in turn encourage the public to use cabs more often…

Central to the changes will be the introduction next year of the Knowledge, a compulsory exam for new and prospective drivers that will test them on both street knowledge and customer service skills…

Victoria's taxi industry is dominated by two major booking networks, 13Cabs and Silver Top, and Professor Samuel is set to stand before them on Tuesday and present his plan to loosen their grip on the taxi business.

New, smaller networks will be free to brand themselves with distinct company colours, use apps to make bookings and offer lower fares…

Mr Samuel said the time was not right to release new licences, as the demand for extra taxis was not there. But his address is expected to contain a warning to licence owners who seek to assign their licence to taxi operators at rate above the government's designated $22,000.

''If perpetual plate owners are not willing to offer sensible and fair arrangements for assignments, we will respond to demands and issue new annual licences probably in the first half of 2014, but it might be earlier,'' he will say.
Improving driver's knowledge of local roads and customer service is obviously a good move, but I fail to see how changing the yellow colour scheme of Victoria's taxis is appropriate. Just like in New York, the yellow colour scheme is easily recognisable to both locals and tourists alike.  So instead of changing colours, why not permit some form of branding, as occurs currently under the Silver Top and 13Cabs banners?
More broadly, if Samuel truly wants to boost choice and consumer outcomes, whilst improving driver's welfare, the best thing he could do is allow greater competition by expanding the availability of licenses, subject to meeting minimum performance standards. As it currently stands, the taxi system is unable to provide an appropriate level of service (let alone at reasonable cost) at times of high demand, too often leaving commuters stranded.
It's also not like perpetual license holders would see the value of their investments fall to zero, as is often claimed by the industry. Under the proposed system, they would still be free to rent their licenses out for $22,000 per year, allowing them to earn a 4.4% yield on a $500,000 license (rising with inflation).
The timidity of the reforms and the deferal of issuing new taxi licenses is disappointing, although not that unexpected, given the weakness of leadership in this country.
unconventionaleconomist@hotmail.com
Related Posts via Categories