From the NAB Survey today:
Business confidence strengthened considerably in August, with the index rising to its highest level since May 2011. The cash rate cut in August and a lower AUD may have helped sentiment but it appears more important were political factors – including an expectation of political change and more certainty about the future policy framework (this survey was conducted prior to the Federal election on 7 September). Confidence lifted in all industries and states in August. That said confidence is now only back to average levels and much will depend on whether the current bounce is maintained or erodes away in the face of poor business conditions.
Business conditions edged marginally higher in August but fundamentally were "unchanged at soggy levels". Weakness was very apparent in retail trend conditions, which recorded the weakest reading in almost five years. Conditions were also especially weak in mining, manufacturing, construction and wholesale, while recreation & personal services was the only sector to report positive conditions. Forward indicators edged up a touch but remain at subdued levels. Particularly concerning was a slump in employment conditions (weakest since May 2009), painting a worrying outlook for the labour market. Capacity utilisation remained subdued.
The survey implies underlying demand growth and GDP (6-monthly annualised) of around 2½-2¾% in the September quarter. Our wholesale leading indicator implies no improvement in near-term activity.
Labour costs growth softened in August, after surging higher in July following the implementation of a higher national minimum wage. Prices rose only marginally in August (as did retail prices); when combined with moderate growth in purchase costs, it appears that margins are being further compressed.
Here are the internals:

Confidence rocketed but is still subdued.

Will it generate better conditions? That will be up to the consumer, I suspect. And s/he is going to be up against a weak labour market: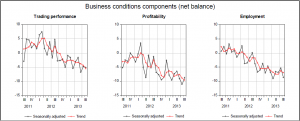 And the weakness is everywhere:

Generating no investment: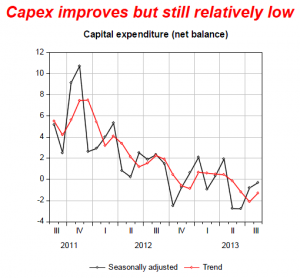 But with some hope from the dollar: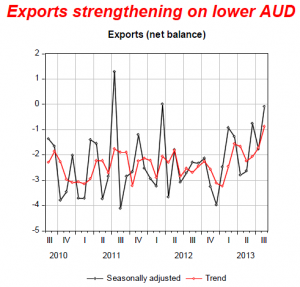 And slightly improved forward orders: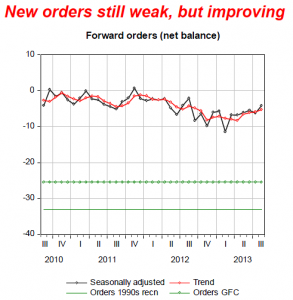 My view remains that the honeymoon will last through Christmas and then fade…
2013m08 Press release.pdf by Lauren Frazier
Related Posts via Categories