The quarterly Manpower Employment Outlook Survey is out today and it's more dour news for the job market: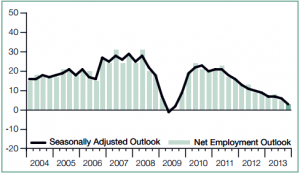 Australian employers report modest hiring intentions for the October-December time frame. With 17% of employers expecting to increase staffing levels, 14% anticipating a decrease and 69% forecasting no change, the Net Employment Outlook stands at +3%. Employers report weaker hiring prospects both quarter-over-quarter and year-over-year, with the Outlook declining by two and six percentage points, respectively.

Once the data is adjusted to allow for seasonal variation, the Outlook also stands at +3% and is the weakest forecast since Quarter 3 2009. Hiring intentions decline by three percentage points when compared with the previous quarter and decrease by six percentage points year-over-year.
And the weakness is coming from?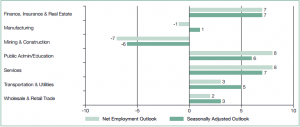 Related Posts via Categories