The cautious tone we saw in US trade has extended into Asia, with most of the major markets drifting. Focus has now switched from Syria and back to QE tapering as we approach next week's FOMC meeting. Moves in treasuries and the USD are usually a good indication of where positioning lies heading into key Fed announcements. However, the current price action has kept investors guessing, and as a result caution might be warranted. Yields on the US 10-year treasuries actually fell, while the USD lost a bit of ground to most of the majors despite some encouraging US economic data.
The most notable release from US trade was the weekly unemployment claims which dropped to 292,000; a six-year low. However, analysts have warned that the numbers aren't very reliable due to a technical problem and perhaps waiting for more data over the next few weeks for confirmation that this drop in jobless claims is accurate is a smart strategy.
Meanwhile, the US budget deficit grew, but still came in well ahead of estimates. Despite all these positive readings, the US dollar didn't really exhibit the kind of strength we would generally expect from the effect it has on tapering expectations. This suggests the market is perhaps now content with the tapering notion.
Data is limited today, but we will have US retail sales, consumer sentiment and inflation expectations to look out for. Yen crosses experienced the most significant moves, with USD/JPY slipping to test support in the 99 region before bouncing strongly to 99.82. It certainly looks like the pair is headed back towards 100 in the short term.
After having had a stellar run all week, Asian markets are losing ground heading into the weekend. Japan Nikkei (+0.1%) has been very choppy today on the back of some gyrations in the yen, the Shanghai Composite has lost 1% and the ASX 200 was down 0.4%. Japan has a four-day trading week and China just three days next week, with some bank holidays coming up. This has probably been a factor contributing to some of the profit taking and subdued trading we are currently seeing. However, with most equity markets still in strong short-term uptrends, we would prefer to buy the dips as support levels are tested.
Looking ahead to European trade, there are signs that the region is also in for some subdued trading at the open. The current calls are mixed, with the CAC looking like it'll edge higher, while the FTSE is in for a mildly softer open. EUR/USD was mostly sidelined at 1.33, but has since lost its grip in Asian trade and dropped to a low of 1.328. On the economic front we have employment change, eurogroup meetings and ECOFIN meetings as well.
A major concern for risk currencies in the short term is the massive drop we saw in gold prices. Gold slid from around 1360, where it was trading at the end of local trade yesterday, and is now at 1324. The precious metal is playing catch up to vastly changing fundamentals. With some level of tapering set to be announced next week and the Syria situation seemingly under control, most of the fundamentals supporting gold over the past few months are diminishing. The 50% retracement of the recovery from July lows (1180) to August highs (1434) for gold lies at 1307 and we feel that is the last line of defence for gold preventing a drop below 1300 again. A report in the Nikkei newspaper suggesting Obama is set to name Larry Summers as Fed chief has been pinned as the main reason for gold extending its drop to around 1,309.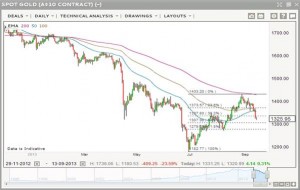 After leading the market all week, materials are lagging the market today, but the 5200 support has managed to hold today. The local market closed down 0.4% today but still finished up 1.5% for the week. Buying dips into 5200 is likely to be the preferred strategy given it was a level of consolidation for the market in the past. The materials sector has dropped 1.2% today with nervous trading kicking in at the year's highs and ahead of the FOMC meeting.
BHP and RIO have dropped over 1% each. Gold names were savaged earlier, but some of them are off their lows as gold finds support in Asia. NCM was down 1.6% after having dropped nearly 4% earlier. Defensives are back as the destination of choice with healthcare and consumer staples sectors in positive territory. CSL Limited climbed 1.1% and ResMed tacked on 1%. Risk assets seem to be running out of steam heading into the weekend with a lack of fresh catalysts to keep pushing markets higher.
Related Posts via Categories