ABC's The Drum last night screened a short segment on housing affordability, featuring Joel Pringle from Australians for Affordable Housing.
In the segment, Pringle argues:
Houses across Australia are mostly unaffordable for young Australians and, despite very low interest rates, first home buyer (FHB) demand has tanked.
A major reason why FHBs are missing out is because investors are taking advantage of the low interest rates and tax advantages (e.g. negative gearing) to bid-up the price of the pre-existing housing stock.
Negative gearing is a failed policy that has done absolutely nothing to add to supply or alleviate rental pressures.
Australia's various levels of government need to coordinate better on housing-related infrastructure.
Population growth should not be an issue and should be able to be accomodated with the right policy settings.
Not surprisingly, I agree with Pringle's points. As he rightly points out, over 90% of negative gearers buy pre-existing dwellings (see next chart).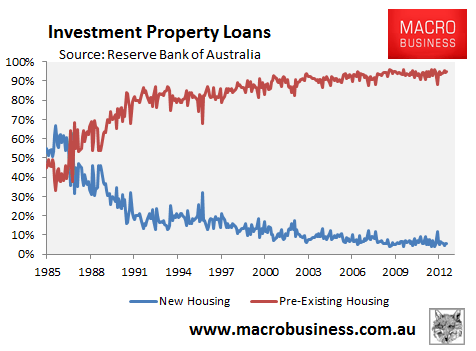 Moreover, the amount of investor funds going into new housing has barely shifted in 25 years: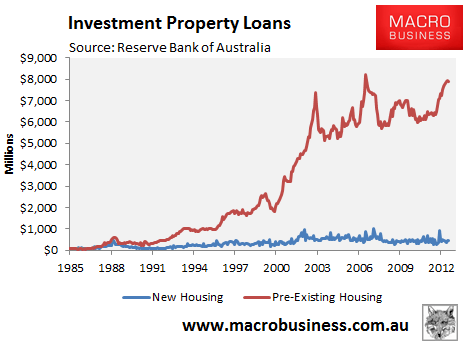 As such, negative gearing in its current form simply substitutes homes for sale into homes for let and has done nothing to boost the overall supply of housing or improve rental availability or rental affordability.
Pringle's comments on population growth not needing to be a problem if the policy settings are correct is also supported by US data, which shows that house prices bore little relation to population growth throughout the bubble/bust period, with many states maintaining affordable housing despite equal or higher population growth than experienced in Australia (e.g. Texas, North Carolina, South Carolina, and Georgia):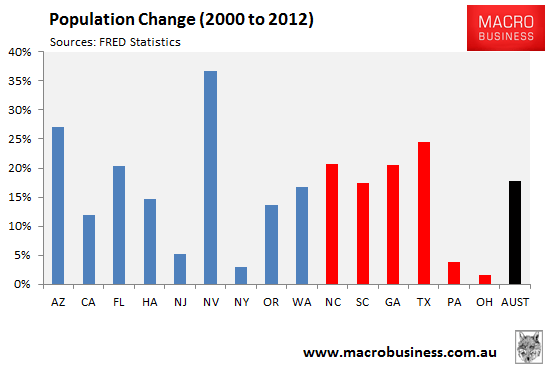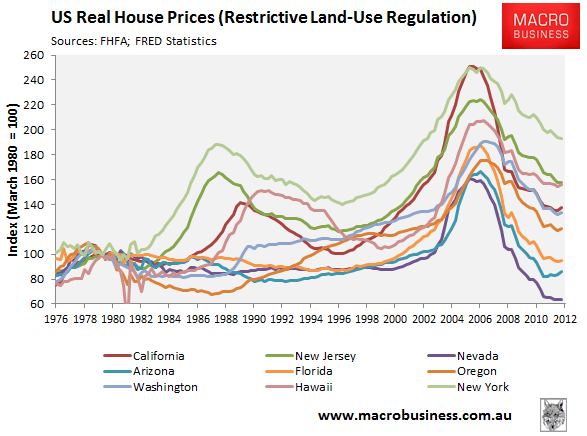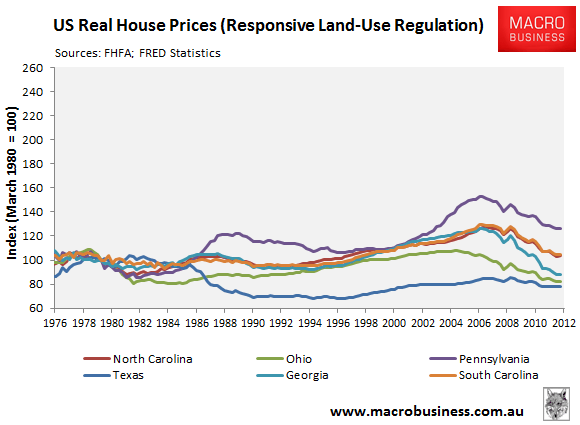 The key is ensuring that: land markets remain open and competitive; planning approvals are provided quickly and efficiently; taxes and charges on new development are kept to a minimum; and adequate housing-related infrastructure is provided (whether from the private or public sectors). In US states where these conditions were met (again, Texas, North Carolina, South Carolina, and Georgia), rapid population growth was not a problem, whereas in states where planning and/or land supply were restricted (see second chart above), prices rose sharply irrespective of population pressures.
unconventionaleconomist@hotmail.com
Related Posts via Categories