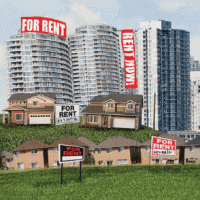 From SQM Research comes its rental vacancies statistics for July, which shows no change in the rental vacancy rate at the national capital city level, but a small reduction in the actual number of vacancies:

According to the Media Release:
…this figure still represents a 0.3% increase in vacancies since this month last year, with Canberra and Perth showing particularly substantial yearly increases, indicating that the rental market is slowly but surely beginning to loosen up on a national level.

Bearing this in mind, similar to SQM Research's stock on market figures for this month, each capital city tells a different story, in particular Melbourne – which appears to be falling from its long standing trend of recording elevated vacancy rates. Melbourne has dropped by 0.2% during the month of July, coming back down to a vacancy rate of 2.7%.

Hobart has also recorded a notable monthly decline, falling by 0.3% during July 2013, to reveal a vacancy rate of 2.2% – the capital city's lowest vacancy rate since March.

The remainder of the capital cities remained fairly steady on a monthly basis, indicating that there has not been a substantial exodus of renters or a notable influx of supply of rental dwellings month-on-month.

However, it is SQM Research's belief that with Spring on its way, we will soon potentially see a rise in vacancies as first home buyers take advantage of the record low interest rates to exit the rental market in favour of purchasing their first property…

Louis Christopher of SQM Research says, "It is very clear that residential property vacancy rates are starting to mimic certain economic realities in the marketplace. I am not surprised at all that vacancy rates in Perth and Canberra continue to rise. In both instances we are well aware of the local economic challenges currently facing those two cities."
As an aside, I have never fully understood the argument that rental vacancies would necessarily fall as first home buyers enter the market. To the extent that they purchase pre-existing homes, there should be no impact on the rental vacancy rate since they would merely be replacing another owner occupier who themselves would shift onto the private rental market or buy another home, or if purchased from an investor, substituting a rental home for an owner-occupied home.
The rental supply-demand balance should only change when first home buyers or investors purchase newly built properties.
unconventionaleconomist@hotmail.com
Related Posts via Categories