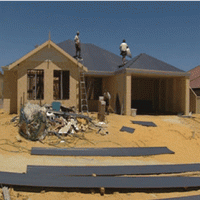 The Housing Industry Association (HIA) has today issued a media release arguing that a sustainable pick-up in dwelling construction is unlikely unless structural supply-side barriers are tackled:
HIA's latest National Outlook highlights a new home building recovery at risk of running out of steam and a gradual improvement in renovations investment from a ten year low.

"A strengthening in the new home building markets of New South Wales and Western Australia has driven a promising first round recovery in national housing starts," said HIA Chief Economist, Dr Harley Dale. "Ensuring the recovery is sustainable is the key, but that looks unlikely based on current policy settings."

"There is not enough policy focus on housing reform at a state as well as federal government level. Consequently, a first round new home building recovery looks set to be stopped in its tracks," said Harley Dale. "Such an outcome would be detrimental to an improvement in housing affordability, a faster pace of economic growth, and a lift in the nation's productivity performance."

HIA estimates that housing starts increased by 8.3 per cent last financial year to a level of 157,108, following two consecutive years of decline. A fall of 4.2 per cent is forecast for 2013/14 as growth in NSW and WA temporarily runs out of steam before a geographically broader-based recovery takes sufficient hold.

HIA estimates that total investment in renovations fell by 6.6 per cent in 2012/13 to reach a decade low. Growth of 3.5 per cent is forecast for this financial year, which would take investment to a level of $28.9 billion. This would be $1.8 billion short of the record achieved in 2010/11.
As argued previously, I broadly agree with the HIA's diagnosis that the rate of dwelling construction is likely to remain tepid irrespective of whether the RBA makes further cuts to interest rates. The fact of the matter is that dwelling construction remains depressed. Despite home prices rising massively since the mid-1990s and mortgage rates falling significantly over that time, the rate of dwelling construction per head of population is still hovering near 30-year lows (see next chart).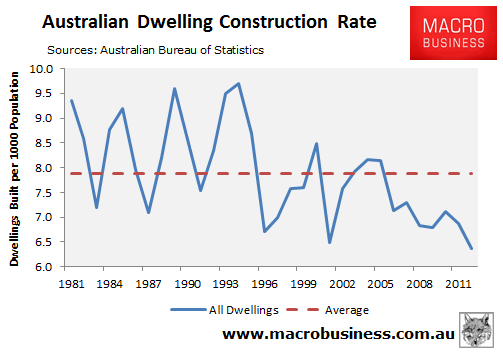 Unless reforms are made to free-up land supply and competition amongst land holders and developers, reduce taxes and regulatory changes on development, steamline development approval processes, and improve the provision of housing-related infrastructure, then the cost of new homes are likely to remain above what most people can afford or are willing to pay.
Continuing to pump demand via cheap credit and home buyers grants will provide a modest short-term sugar hit to construction (as it did in 2009-10), but it does nothing to fix the underlying structural barriers that prevent affordable and desirable houses from being supplied to the market.
unconventionaleconomist@hotmail.com
Related Posts via Categories