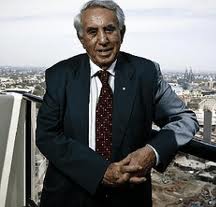 Sometimes there are some pretty interesting interpretations of Australian business activity in our media. From Gotti:
The efforts to stop "the mother of all housing booms" are intensifying. Australia's biggest apartment builder and owner, Harry Triguboff, has seen a seven per cent rise in the price of Sydney apartments in recent months. He understands the dangers of an apartment price explosion in Sydney so he has decided to start selling part of his portfolio of more than 5,000 Meriton Sydney apartments.

Just how many he will sell is not known but it will curb the threatened Sydney apartment price explosion and of course, he is still building new apartments at full pace.

At the same time the big banks have been quietly told by the Reserve Bank that a dwelling price boom is the Reserve Bank's greatest fear in the current climate because Australian dwelling prices are already high by most world standards. If a new housing price boom starts to break out then interest rates will have to rise.
You don't suppose he selling for a profit do you?
Related Posts via Categories