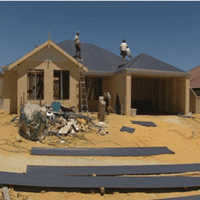 Australia's building products manufacturers have come out today warning that the hoped-for recovery in housing construction required to fill the void left as the housing boom unwinds is proving patchy. From the AFR:
Boral, Fletcher Building, CSR and Adelaide Brighton have been forced to cut thousands of jobs, close plants, write down equipment and lower production in response to a construction industry in the doldrums despite record low interest rates, a rising population and state government incentives.

Boral chief executive Mike Kane said earnings from its construction ­materials division were being underpinned by resources-related work in Queensland and Western Australia. But the stagnant housing market had hurt sales of bricks, window and timber products.

He forecast "some strength" in NSW and West Australian housing construction and said Victorian and Queensland housing activity was "still not moving in the right direction".

The warnings are likely to worry the Reserve Bank of Australia, which is counting on an uptick in housing construction to drive growth as the resources investment boom peters out.

So far, the Reserve Bank's low- ­interest rate strategy has been driving up prices of established houses and apartments.
Certainly, a quick examination of the broad data agrees with the building product manufacturers' concerns. The latest construction materials data shows ongoing weakness in the production of clay bricks, roof tiles, plaster board and concrete blocks – materials typically used in housing construction (see next chart).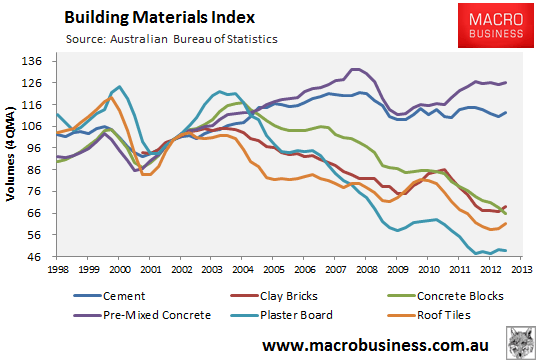 Moreover, while new home  sales have picked-up, they remain very weak overall: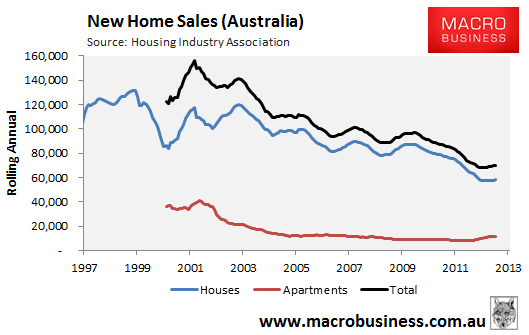 The recovery in new home sales has also been very weak compared with previous rate-cutting cycles: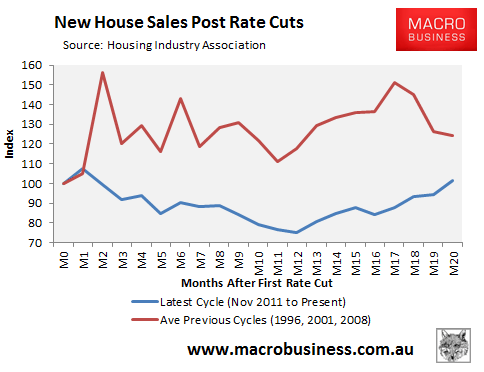 Dwelling approvals also remain relatively soft, tracking around the 30-year average despite population growth running well above average levels and Australia's population now around 45% larger than it was 30 years ago: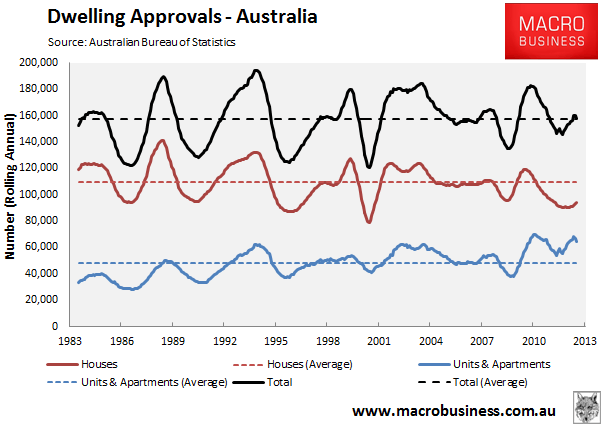 That said, there have also been some 'green shoots' for the construction industry, particularly an acceleration in finance commitments for new dwellings and construction, which could point to increasing building activity down the track: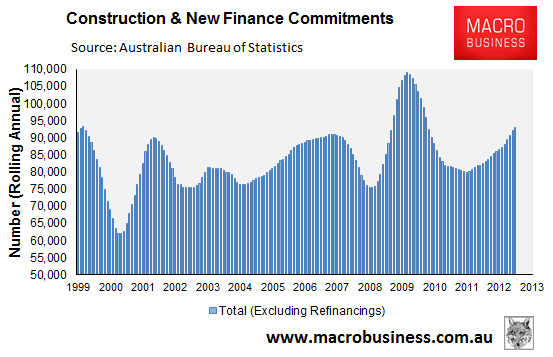 In the recent Q&A session following RBA Governor Glenn Stevens' speech to the Economic Society of Australia, Stevens' noted that "if all we get from cheap and lower interest rates is higher house prices and not more houses, that's actually not be a very good outcome".
With established house prices rising once more, and construction levels still highly subdued (albeit improving from a very low base), there is a real risk that Stevens' warning might come true and the RBA's plans for housing to fill the void left as the mining boom unwinds could be forlorne.
In any event, what the above shows is that Australia cannot fix construction bottlenecks by simply lowering the cost of credit and throwing stimulus at new home buyers via first home buyers' grants. Structural barriers preventing affordable homes from being supplied – from increasing land supply, streamlining and/or relaxing planning rules, and improving the way infrastructure is provided and funded – must be addressed.
Monetary policy will also become increasingly ineffective in managing the economy without structural reforms to the supply-side of the economy.
unconventionaleconomist@hotmail.com
Related Posts via Categories