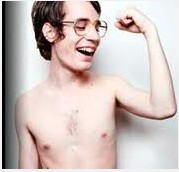 From Property Observer today comes research from ANZ Bank showing that the current housing construction upswing in at least 25 years: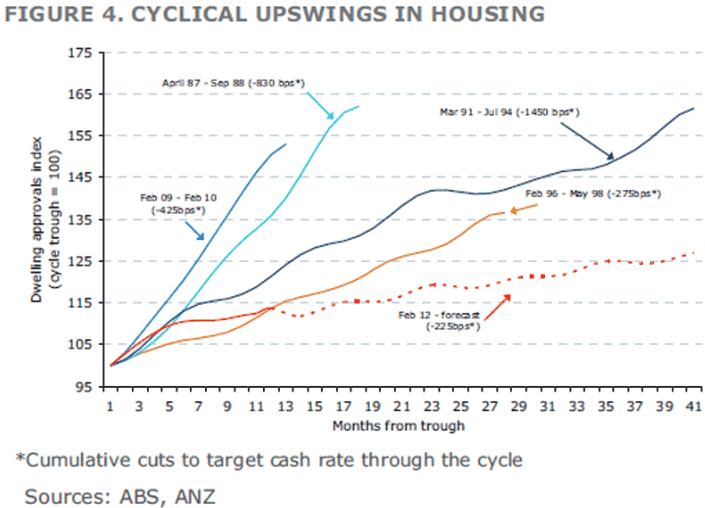 The current modest recovery follows an expected 225 basis points being cut from the cash rate since November 2011. This reflects ANZ's forecast of a further 50 basis points cut from the cash rate in 2013 on top of the 175 basis points already cut to date.

"If the current cycle were to only have 175 basis points then our starts/dwelling investment forecast would be even softer," says ANZ's head of property research Paul Braddick.

ANZ economists Ivan Colhoun and Katie Dean, authors of the Australian portion of the quarterly report, say while there are some moderate signs of improvement in residential building approvals, this sector still faces "serious constraints".

"Soft house price expectations, poor housing deposit affordability for first-home buyers, relatively tighter credit conditions for developers, difficult approval processes and limited land availability and accessibility all mean that this is prospectively the weakest cyclical recovery of the past five housing upswings," they say.
It's also worth noting that the house price upswing has also been weak compared with previous experience, with prices rising only modestly since interest rates were first cut in November 2011, according to both Residex and RP Data (see below charts).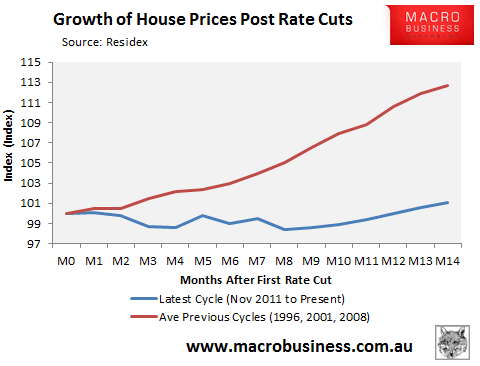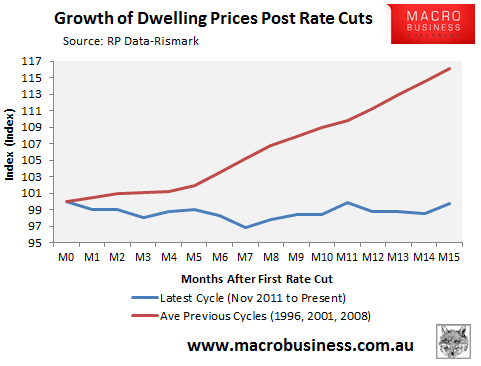 unconventionaleconomist@hotmail.com
Related Posts via Categories