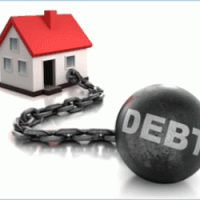 RP Data has posted a Media Release analysing results from its Mortgage Index (MI), which was released last month. According to the MI, the Australian mortgage market grew at an annualised rate of around 10% in seasonally-adjusted terms during the eight weeks to 10 March 2013:
According to RP Data's head of corporate affairs, Craig Mackenzie, the RP Data Mortgage Index (RMI) has surged over the past eight weeks, with the RP Data Mortgage Index (as at March 10) reaching 100.7 points, the highest reading since August 2009. This result highlights the extent of new market activity between the traditionally slow month of January and February.

In seasonally adjusted terms, the RMI Index increased from 76.9 to 78.1, foreshadowing a strong result for February when the housing finance data is released by the ABS in mid-April.

"Of greater significance is the fact that the raw Index value of 100.7 over the 28 days to March 10 was the highest since September 2009, which was a point in time when market activity was very strong, underpinned by high levels of first homebuyer activity stimulated by low interest rates and the First Homebuyer Grant Boost. This is supported by the fact that the average number of activity events across RP Data's platforms per client was the highest since August 2009.

"This suggests mortgage market activity has rebounded strongly in February after the post-Christmas lull, driven by increased levels of consumer confidence, attractive mortgage interest rates (both fixed and variable) driving strong refinancing activity and improved investor demand," Craig Mackenzie said.
The RP Data MI is supposed to be a real time indicator for mortgage market conditions, leading the ABS Housing Finance data by at least six weeks.
RP Data states that it manages in excess of 90% of all residential valuation instructions originating from the Australian financial services sector. Accordingly, its RMI has an 82% correlation with the ABS housing finance data and an 88% correlation when the seasonally-adjusted series is used.
I'll admit that I don't understand how RP Data has arrived at its result. In it's weekly update to 10 March, RP Data provided the below capital city break-down showing a seasonally-adjusted monthly gain in the MI of 1.5% at the national level, despite big falls in NSW (-2.4%) and a slight fall in Victoria (-0.1%), which together account for over half of the nation's housing market. Further, only Tasmania recorded an increase greater than the national average. I'm not sure what has happened here, but the claimed national result does not match the results at the individual capital city levels (see next table).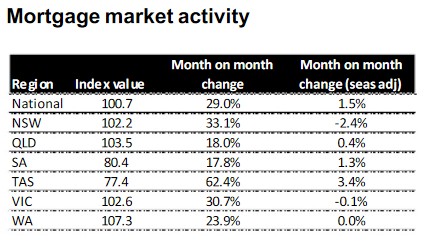 The full Media Release is provided below.
unconventionaleconomist@hotmail.com
RP Data Mortgage Market Activity Update – March 2013
Related Posts via Categories