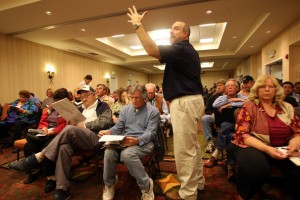 Westpac has a quite useful way of carving up monthly housing finance figures into buyer cohorts and states that offers a glimpse of who is actually buying property at any given moment. Here are the three operative charts:
Investors by state: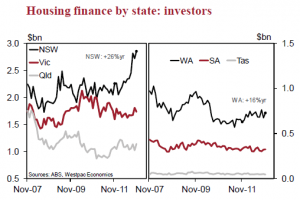 We don't know how Westpac achieves this split. The ABS does not provide state breakups for investors.
Investor data is not seasonally adjusted but its growth is clearly focused (almost exclusively) in NSW.
Upgraders by state: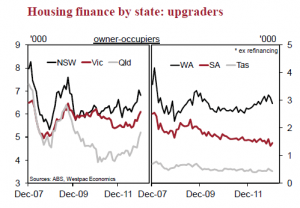 Upgraders show more broad-based strength in eastern states.

Bear in mind, however, that all three states have had first home buyer spikes in the past six months. These are normally followed by upgrader strength as homes sold to the new entrants are replaced.

The upturn looks more than just an FHB follow-through but could be exaggerated.
First home buyers by state: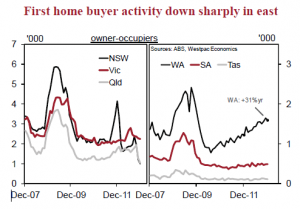 Well…ugly everywhere except WA.
The pulling of the First Home Owner Grant in NSW and QLD has demolished new market entrants. Victorian incentives also changed but not in so sudden a way.

In the past when FHB incentives have expired, it has taken roughly four down months to find a bottom before a plateau or rebuild.

On this occasion, however, the grant has been moved to new homes and has the feel of a much more permanent shift. This is uncharted territory and may lead to greater weakness for longer in FHBs.

I find it very hard to see how price rises can be sustained so long as FHB's are out of the market. 
Full report below.
er20130211BullAusHousingfinanceDec12 (1).pdf
Related Posts via Categories