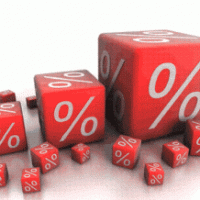 After the sub-prime mortgage crisis hit global capital markets in late-2007, causing bank funding costs to rise, the spread between the Australian banks' discount variable mortgage rate and the Reserve Bank of Australia's (RBA) official cash rate (OCR) increased sharply, reaching a post-GFC high of 2.7% as at January 2013 (see next chart).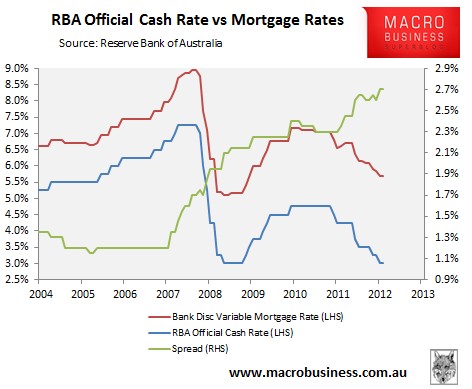 Recent reductions in wholesale borrowing costs, in addition to expectations of further cuts to the OCR, prompted Australia's second biggest home lender, Westpac, to last week slash its 3-year fixed mortgage rate to just 4.99%, which has also been matched by RAMS.
Now it appears that variable mortgage rates are also set to fall out-of-cycle with the OCR, with Sydney-based non-bank lender, BMC Mortgage Corporation, announcing that it had dropped its variable home loan rates by 10 basis points to just 5.53%. From Property Observer:
Sydney-based non-bank lender BMC Mortgage Corporation has become the first lender to cut its variable rates outside of an official RBA rate cut.

The lender dropped its variable home loan rates by 10 basis points yesterday, despite the RBA leaving the cash rate unchanged last week.

According to mortgage comparison website Ratecity.com.au, it is the first lender to cut variable home loan rates out-of-cycle with the RBA

BMC Mortgage, based in Clarence Street in the Sydney CBD, offers homeowner and investment loans at 5.53% and a construction loan at 5.75%…

Michelle Hutchison, spokesperson for RateCity, said the slow lending market is changing the way lenders compete for customers.

"We've never seen lenders cut variable rates while the Reserve Bank cash rate is on hold.

Lenders are obviously feeling the pressure of the slow mortgage market and are doing whatever it takes to attract new customers, including cutting their interest rates out-of-cycle.
Bank 3-year fixed mortgage rates were already at record lows in January 2013, according to the RBA, whereas discount variable rates were just 0.6% above the low of 5.10% reached in April and May 2009 (see next chart).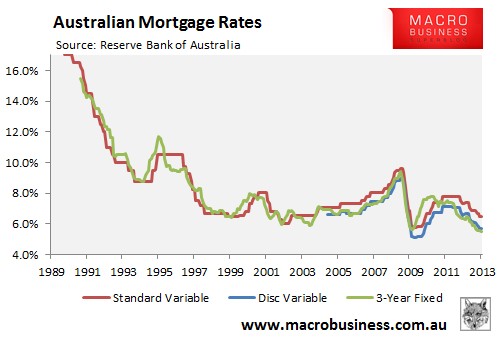 While competition for market share in an otherwise slowly growing mortgage market could see bank loan margins erode a little, I doubt we will see too many out-of-cycle cuts to variable mortgage rates. The fact remains that while wholesale funding costs have fallen recently, deposit funding costs remain elevated, as evident by deposit rates offered by the banks tracking at record levels relative to the OCR (see next chart).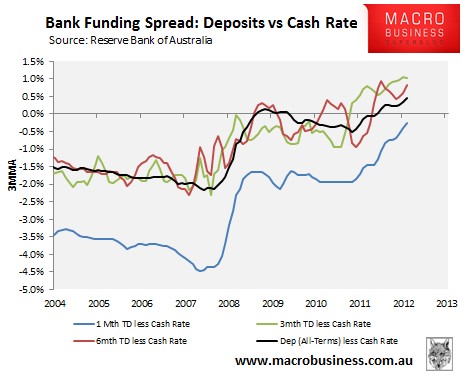 unconventionaleconomist@hotmail.com
Related Posts via Categories