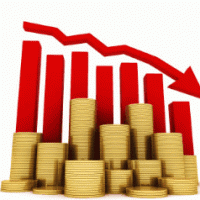 Yesterday, David Potts published an interesting article in the Money section of the Sunday Age questioning whether mortgage rates might soon fall outside of any future official interest rate cuts by the RBA:
THERE'S more chance of the next rate cut coming from a bank than the Reserve Bank…

The margin they [the banks] have to pay to raise money in global capital markets has almost halved in six months, and is still falling.

While the banks are financing more loans from term deposits than during the global financial crisis, the cost of these has dropped lately as well.

Some of the extra profit has already been given away as lower fixed mortgages, as well as big discounts on the advertised variable rate for new customers (and existing ones who whinge)…

The problem for them is that the sharemarket is sucking money out of maturing term deposits, so they need something in reserve, so to speak, in case they need to offer depositors more.
It is interesting to note that bank 3-year fixed mortgage rate hit an all-time low in October 2012 at just 5.5%, according to the RBA statistics. Fixed rate mortgages have also been below the discount variable mortgage rate since July 2011 as the expectation of sharp cuts to the official cash rate took hold (see next chart).
However, while bank wholesale funding costs have indeed fallen, deposit funding costs have actually risen recently, which might preclude the banks from making any out-of-cycle rate cuts or passing-on in full any future cuts to the official cash rate by the RBA.
As noted a few weeks back, the spread between the various deposit maturities and the official cash rate have been on the rise since late-2011 and hit an all-time high of 0.45% above the cash rate in December 2012 (see next charts).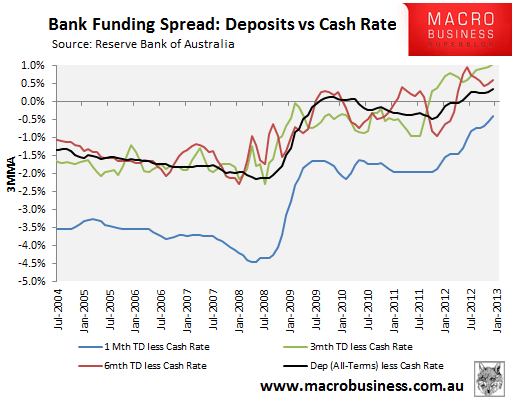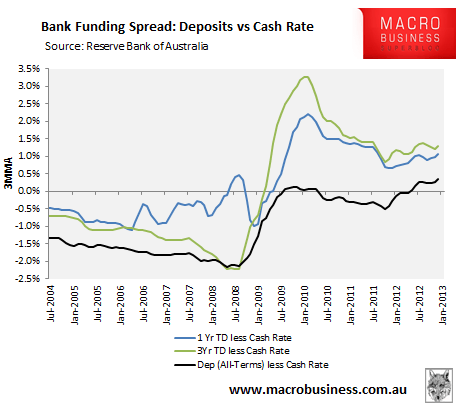 Similarly, the spread between the discount variable mortgage rate and the average deposit rate has been falling since late-2011, also suggesting that the banks' deposit funding costs have risen (see next chart).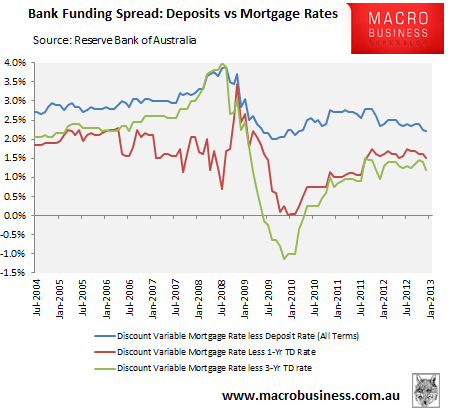 Finally, the margin between bank 3-year fixed mortgage rates and deposit rates have also taken a hammering recently, suggesting that additional fixed rate cuts from current record low levels is unlikely in the absence of further official interest rate reductions by the RBA (see next chart).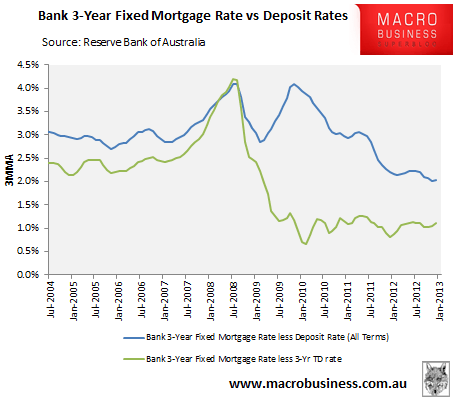 In short, don't expect too much love from Australia's banks on the mortgage front. They are unlikely to cut mortgage rates out-of-cycle with official interest rate cuts from the RBA.
unconventionaleconomist@hotmail.com
Related Posts via Categories