Find below the iron ore price table for January 31, 2013: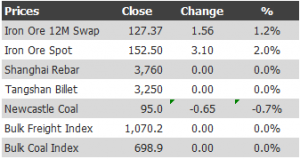 And the chart:
So, once again defying the doomsayers, 12 month swaps for the miracle commodity have broken out to a new high for the move and put a rocket under spot.
More support was found in rebar futures (though no move in spot), which poured it on across the curve and are making a mockery of my base case that China will weaken again into the second half (which is to be expected, reflexivity and all that):

Let's revisit the seasonality issue around Chinese New Year. Here's a seasonal chart from Bloomie:
As you can see from the small sample we have, Chinese New Year dips tend to arrive in mid-February regardless of a date that jumps around between the last week and January and mid-February for the actual event so its too early to call  it off.
But there's no doubt that right now there's life in these markets.
Related Posts via Categories