The ABS eight city house price index is out and accords with APM's house price movements announced last week of a 1.6% increase in the December quarter:
And 2.1% on the year:
Rises were led by Perth and Darwin and Sydney was also solid: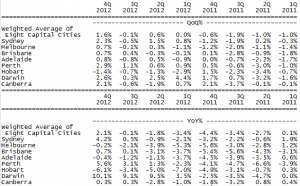 These results are at the stronger end of the spectrum of different provider results. No doubt about it, stimulus is slowly having an affect on prices despite the absence of a credit bounce.
The New Zealand phenomenon of mediocre credit growth tipping into low volumes and price rises may have arrived here too.
Related Posts via Categories